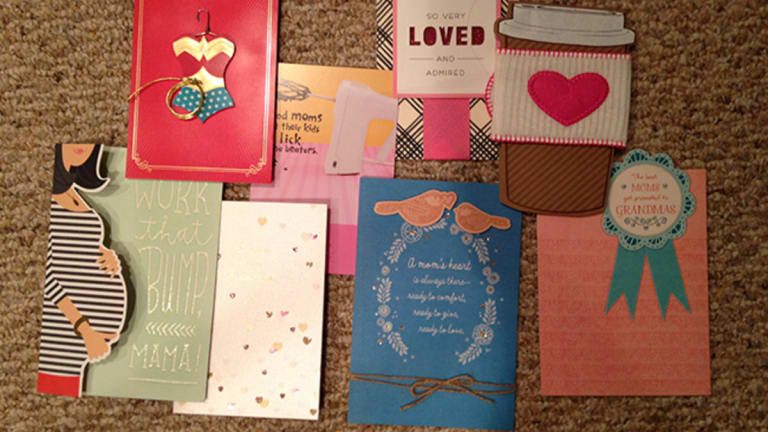 Publish date:
The Gift of the Written Word: Sweet Mother's Day Cards From Hallmark
Mother's Day is all about sharing your feelings of love. I can't wait to share my sentiments with a few well chosen cards.
Mother's Day is all about sharing your feelings of love. I can't wait to share my sentiments with a few well chosen cards.
I'm fortunate to have a few amazing women in my life. Mothers, aunts, sisters, and friends who inspire me, support me, and help me grow as a mom every day. They say "it takes a village," and, indeed, it does. This group is my village—they watch my kids, they encourage my goals, and they would do just about anything for my family and me. I'm blessed to have them.
This Mother's Day, I'm honoring four incredible moms in my life with tokens of my affection and appreciation. But instead of spending a lot of money on extravagant gifts, I've chosen the perfect Hallmark card for each of them, and poured my heart and soul into each personalized note. I want to tell my mom, my mother-in-law, my aunt, and my friend how I feel about them. There's something especially powerful about the handwritten word in this the age of email and text messages.
Dear Mom…
My mom is a saint. She is loyal and loving and strong and stubborn and, above all else, totally selfless. Growing up, she was my biggest supporter and my number one fan—she encouraged me, grounded me, and loved me unconditionally. She still does. And now she does the same for my children, her grandbabies. They adore her, and she worships them.
Now, more than ever, I appreciate everything my mom has done and continues to do for me. She'll drop everything to watch my babies—to take them to the doctor, to buy them new toys, to tuck them in at night. She does this because she loves them, and because she loves me too. She enables me to have the life I want—to have a family, a social life, personal aspirations, and a career. She's the reason I can have it all. And I am grateful every single day.
I love her a latte... I inherited my pricey caffeine addiction from her, and so I selected this adorable sweater-sleeve coffee-cup Hallmark card for my mom. I'm going to throw in a Starbucks too—because watching grandchildren all day is rewarding work… but it's exhausting too!
(Actually, she's getting two cards—because I'm pretty convinced she is Wonder Woman.)
Dear Mom-in-Law…
My in-laws live in Kentucky, so we don't get to see them all that often. They do visit a few times a year though, and we go to Nicholasville once in the spring and once in the fall. They live on a big horse farm with an endless view and wide-open spaces for running and playing. My little guy loves it. He gets to do his "farm chores" every morning—he feeds the horses and rides the tractor (I hold my breath the entire time.)
The fresh country air is the best thing for a growing boy. And my mother-in-law keeps him busy all day long. When he's not playing with the miniature pony she borrows for our visits, he's in the house building towers with Grandma, helping her bake, and cuddling up for movie time. The fun never ends at Milli and PopPop's house, and I'm so happy my son gets to have this incredible farm experience so early on in life.

Fun Ways to Discover Venice Italy with Your Family
Greetings from Italy wear the gelato is rich, the clothes divine and the scenery is inspiring. Now that I've been to this fine city in the north of Italy, twice, I've amassed a list of favorites to share. These are some fun ways to discover Venice, Italy with your family. ...read more
Here's What No One Tells You About Olive Oil
produce is at its absolute PEAK right now. It's the time to prepare fresh veggies and fruit with ease and simplicity. When it comes to cooking, the farmer's market is my muse. As I prepare some of my summer harvest favorites, I'm sharing a little secret, what you put ON the ...read more
I'm giving my mother-in-law this sweet Hallmark card. (She's always hoping for a blue ribbon for her racehorses, but we think she deserves one too!)
Dear Aunt April…
My son worships the ground my Aunt April walks on—really he does. He talks about her like she's a superstar. She brings him M&Ms and play dough, and they blow bubbles and run around for hours on end during her weekly visits. They have a special bond that makes my heart swell—because the way he feels about her is the exact way I felt about her when I was growing up.
I'm giving "Afoo" this Hallmark Queen of Hearts card—because, in our book, she is royalty.
Dear Bestie…
Pregnancy is hard—no doubt about it. One of my best friends is expecting her first, and I'm so excited to be on this journey with her. I truly believe that you become a mother the second that pregnancy test registers positive, and so I'm celebrating her with a cute card—and perhaps a pedicure for those swollen feet!
I'm giving my friend this adorable "Work That Bump, Mama!" card from Hallmark. She's a fashionista—and pregnancy looks good on her!
Mother's Day is going to be special this year. I can't wait to share my sentiments with the women I love.
MORE MOTHER'S DAY INSPIRATION
PIN IT!
Save your favorite ideas to Pinterest. Be Sure to follow our Mother's Day board here.
This is not a sponsored post.