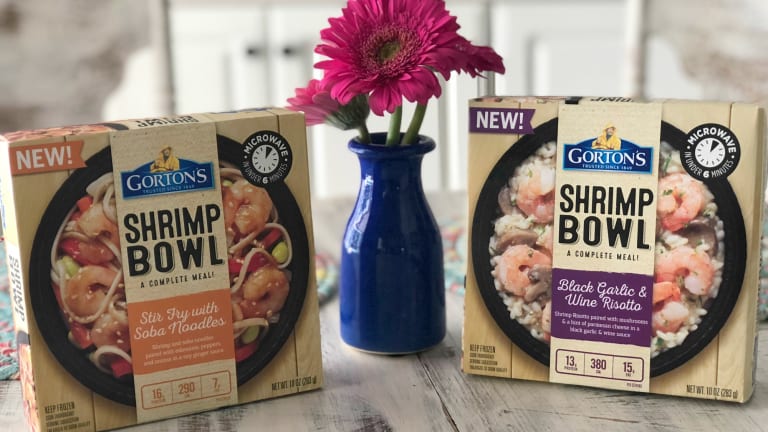 The Easiest Date Night In Ever
I'm a big believer in date night...especially when we're talking about a date night in. The beginning of the school year is SO hectic for our family. The hubs and I simply want to sit on the couch and relax at the end of a busy week. That being said, if we don't pay attention, we're spending all that couch time with the kids and that's not good for anybody. Parents need their "us" time. I wish we could get it together enough to leave the house for a weekly date night, but right now that is just not in the cards. I'm not ready to leave it there though. A date night in after the kiddos go to bed can be just as romantic. And if I don't have to spend a ton of time in the kitchen, it's doubly romantic. Bwah! Thank goodness for Gorton's Shrimp Bowls!
Simple Date Night In Meal
I've made no secret of the fact that I don't particularly enjoy cooking. Baking I'll do all day long, but cooking? Eh. I can't take all that prep. It is simply not my jam. My hubs, on the other hand, doesn't mind cooking at all. He quite enjoys it in fact. So, he makes the bulk of the meals in our house. And that's why he deserves an off day. He also deserves to not have to spend time with a wife who's cranky because she had to hang out in the kitchen for too long. Bwah! With Gorton's Shrimp Bowls, our main dish is taken care of and we can even have different flavors if we so desire. My honey is big on garlic, so the Black Garlic & Wine Risotto is perfect for him while I'm partial to the Stir Fry with Soba Noodles! After I heat those up, all I have to do is throw together a quick salad, open a bottle of wine and light some candles. Easy peasy!
Date Night In Ideas
* Cook an easy meal and enjoy adult conversation by candlelight. Even a simple dinner at the kitchen can be romantic when candles and even fresh flowers are involved!
* Have a movie night in. The best part about watching a movie at home is that you can rock athleisure and drink wine. Just sayin'.
* Play a board game. We love a good old fashioned family game night, but do you ever play one just the two of you? It's loads of fun!
* Go for a night swim. Obviously, you need to have access to a pool for this to work, but if you do, I urge you to make use of it in the evening sans kids!
* Watch the stars. Grab a glass of vino and snuggle up on the porch. We've had some of our best conversations stargazing!
How do those date night in ideas sound to you? Hopefully I've properly inspired you to plan a little romantic "date" for you and your significant other very soon! Remember, with Gorton's Shrimp Bowls, you can serve up a delicious dinner in mere minutes, under 6 minutes in the microwave to be exact! Spend your time on romance not on cooking! Just push those buttons, walk away and in no time flat you'll have a tasty meal at the ready. I know this time of year can be exhausting, but your relationship will thank you!
And for more date night inspiration, check out our date night printables!
This is a sponsored post.