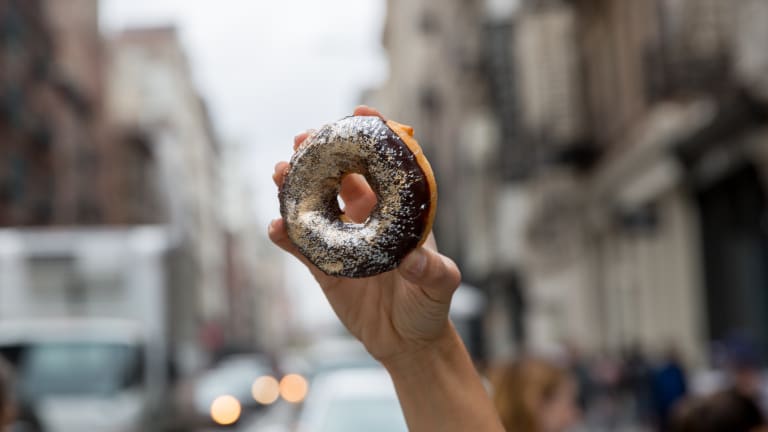 The Do's and Donuts of Treating Yourself This Season
we're sharing our do's and donuts to keep healthy, stay fit, and, yes, enjoy all the yumminess November and December have to offer.
If any food deserves two national days in one given year, it would be the donut. After all, it is a dessert and breakfast in one--so you really get some bang for your buck. Apparently, November 5, is National Donut Day (Part II), and we're more than happy to oblige with a sugary celebration. 
Related: 7 ways to conquer your sugar cravings
Of course, having recently amassed a large quantity of candy, we've been satisfying that sweet tooth of ours more than we'd like to admit. And now that it's November and the holiday season is officially upon us, there's, seemingly, always an excuse (er, valid reason!) to indulge. 
So how is one supposed to strike balance this treat-filled season? How can we enjoy the goodness of pies and cookies and cakes galore without totally overdoing it? Well, as with anything, it's all about compromise. And that's why we're sharing our do's and donuts to keep healthy, stay fit, and, yes, enjoy all the yumminess November and December have to offer.
Never Say Never
Denying yourself goodies completely inevitably leads to eventual binging abuse. The season is chock-full of temptations--don't refuse yourself anything. If you NEED to have that special golden donut today (it's a holiday after all - ha!), then go for it. Just maybe eat half or balance it with a healthy salad and lean protein for dinner, and skip dessert tonigh. t It's a daily give and take. Get the cravings out of your system-- once you have that item you've been coveting, you'll move on and won't find yourself diving into that bucket of Halloween candy anymore. 
Don't Slack on Exercise
Tis the season to be busy! With shopping to do, hosts to entertain, food to cook, and endless errands to run, it's hard to keep to your normal routine during the happy-hectic holiday season. One thing you can't drop from your daily to-dos: your fitness routine. It's so easy to let that go when the schedule gets jam-packed . But you'll only be hurting yourself, your waistline, your health, AND your well being (seriously, nothing alleviates holiday-related stress like a good workout). Don't think you can make it to the gym or squeeze in your regular pilates session? Get creative with your workouts--go for a power walk or jog now (the weather is not yet frightful!).
Don't Over Sugar the Kids
It's hard not to get swept up in the seasonal spirit of things. I find myself buying all the baking mixes, all the gingerbread houses, and all the limited-edition goodies. But having all this sugary stuff in the house isn't good for anyone. The kids will be hopped up on treat--and come to expect it, and you'll find yourself unwittingly picking. Instead, make dessert a special-occasion event. Kick off the weekend making sugar cookies or celebrate Sunday Funday with a pumpkin pie.
Bake It Yourself
Avoid store bought, ready-made treats. Instead, bake holiday goodies from scratch. You can control the ingredients and the sugar content, and the fruits (or cookies) of your labor will taste that much sweeter. 
Indulge or Imbibe 
Holiday season goes hand in hand with goodies and alcohol. Instead of doubling down on extra calories, choose one or the other--beer or beignets, cookies or cocktails, wine or waffles. 
Compromise isn't always easy, but it's the key to a healthy holiday season. But you can start tomorrow--you know, after donut day!
MORE SELF CARE FROM MOMTRENDS
PIN IT!
Use Pinterest to save your favorite ideas from Momtrends. Be sure to follow our Fitness and health board here.
This is not a sponsored post.