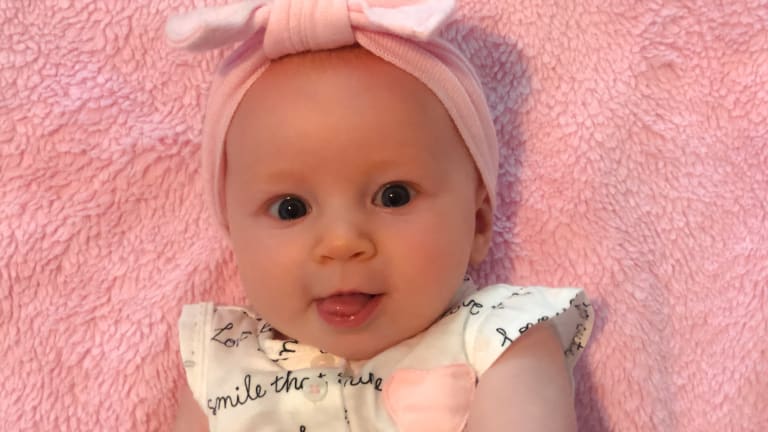 The Coziest Infant Essentials
Carters Offers Comfy Clothes for Your Cuddle Bug
I love dressing babies. It's one of the sweet little joys of early motherhood. And while I do adore boy clothes and gender neutral clothes, I have to admit that picking out outfits for a baby girl makes me especially giddy--maybe it's all those coordinating headbands and oversize bows that put me over the edge. (Squeal!)
Of course, when choosing my girlie's daily ensembles, cuteness third after comfort and practicality. I want my snuggle-bug to be cozy and feel good and nap well and kick around with ease and excitement. I don't want her to be restricted by itchy fabrics or unnecessary materials. That's why we generally stick to classic cotton clothes and stretchy nap-and-play onesies. And when I'm on the hunt for new sizes and styles, I always head to Carter's. Since Day 1 with my newbie, I've relied on this tried-and-true baby brand.
Their stretchies are my favorite--for newbornhood and infancy. When we headed home from the hospital with my little lady two days after she was born, I put her in the sweetest, pinkest onesie from Carter's Little Baby Basics collection. It was her first real outfit and I just adore the darling cursive print and subtle detailing; but, most of all I love how comfy and delicious it feels. Plus, the flip-up "mittens" are key. (I'll buy ALL the built-in hand protection... those little daggers can do damage!)
I loved her first sleep and play all-in-one outfit so much that I bought it in a few different sizes that she can grow into. I also snagged this dreamy outfit featuring cartoon clouds in multiple sizes. Plush perfection, if you ask me (and don't get me started on those munchable cheeks!)
Another favorite from the Little Baby Basics collection is this three-piece set. It features a "word-definition" onesie (hers says "Love"), plus super-soft ribbed pants and a cardigan. It comes in three colors (two of which are very gender neutral)--such a perfect gift!
Let's be honest: babies don't need a lot of fanciful fashion. Frilly tutus and embellished dresses are great for dress up and whimsical Instagram posts. But when it comes to play time, snuggle time, and bedtime--Baby needs the basics. And for that, I know I can depend on Carter's. 
Want more new-mom content? Check out why we think every breastfeeding mom needs this hand pump. Plus, you're going to want to get this baby swing that senses crying!
This is not a sponsored post.