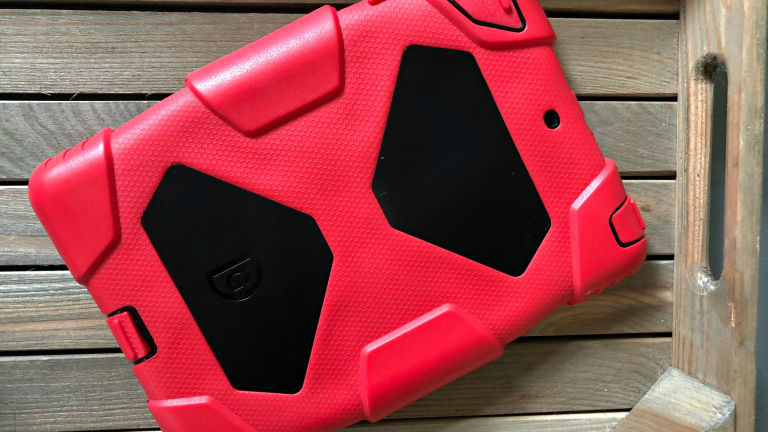 T-Mobile #FamilyMode: The Best Way to Control Screen Time
If I told you that you could have the best way to control screen time right at your fingertips, would you want to know how? Ok, I think I heard you screaming from my house. Bwah! Never fear. I'm about to unleash a real game changer on you. Because I know I'm not the only time who could use some more control over the screens in my home. Seriously, screen time has simply gotten a bit out of hand now that it's summertime. We relax our rules a bit when the kids are out of school, but I think we have may have relaxed things a little bit too much. So, when I heard about T-Mobile FamilyMode my harried mom ears perked right up!
The Best Way to Control Screen Time
In case you aren't familiar, this comprehensive digital solution gives us parents total control over not only our family's devices, but the wifi too! First, let's talk about the app. It's the app of any parent's dreams. With but one touch you can instantly turn off your child's device. With it you'll find real-time location monitoring (which could help you locate the device and/or your child), the ability to filter Web content, as well as the ability to see an overview of a device's usage (e.g. total screen-time, apps used, websites visited etc.)
This two step system also comes with the home device that hooks up to your wifi and allows you to shut the whole shebang down. AND it also extends monitoring and control to devices beyond your cellular network. So, us parents can monitor our kids' use across their computers, smart TV's, gaming consoles and more. Would you believe that all of this game changing action will only cost you $10 a month for the app and a $20 one time fee for the home device. It's time to take back control over our kiddos' online activities. Who's with me?!
Any parent who has found their kid gaming long after he should have been in bed knows how helpful having control over their devices would be. Sure, you can hide their tablets. And, believe me, we've tried that. But kids are crafty. They'll find your best hiding spot eventually. That I can promise you. So, take the stress out of screen time by installing the FamilyMode app on your phone. You're in charge. You can set limits for how much time they're allowed to be on their phones, tablets etc. after you install the app on their phones or devices. AND you can control which sites they visit too. You can set general filters to block specific content as well, or block certain sites.
Just Say No To TOO Much Screen Time
I particularly love being able to give my son's device a "bedtime." Haha! I mean Roblox has become a bit of an issue over here. Just sayin'. I'm sure you fellow Minecraft, Roblox and Fortnite moms know exactly what I'm talking about. Now it's not like we run a dictatorship over here. Our kids have plenty of opportunities to make choices. Too much screen time or screen time at unhealthy hours are simply not options I'm willing to give them at this stage in the game however. No ten year old of mine is going to have a full on gaming addiction!
Tips for Managing Screen Time
I've actually been using some really helpful tips on how to manage screen time that I saw over at Tom's Guide. According to them more down time can result in more screen time, which totally makes sense since we're having more of an issue with it in the summer! And quality makes a difference. Focus on less silly YouTube videos and more educational games for instance. They also suggest you use parental control apps...Ahem! And along that same vein, we wrote about the potential consequences of too much screen time recently. It is not a pretty picture. All the more reason to get T-Mobile FamilyMode right?!
T-Mobile ONE Family Accounts
And if you aren't a T-Mobile customer yet, and, trust me, FamilyMode alone is enough to consider becoming one, the T-Mobile ONE family account is also another incredible feature...
T-Mobile ONE family accounts (two or more lines) also include ALL these Un-carrier benefits at no extra cost, like:
Family Allowances:you can monitor talk and text usage on the lines on your T-Mobile account. For families, this is a great way for parents to manage their kids' smartphone activity
Netflix On Us: through an exclusive partnership, get astandard 2-screen subscription at no extra charge
Simple Global: unlimited text and data roaming and low flat-rate calling in 140+ countries
Mobile Without Borders: use your device in Mexico and Canada with unlimited talk, text, and data and up to 5GB of 4G LTE
GogoInflight: get unlimited texting all flight long and 1 free hour of smartphone Wi-Fi on all domestic flights
DIGITS: use up to five numbers on one device, or use one number on multiple devices
MobileHotspot: connect all your devices to the internet with included tethering data
Un-contract: only you have the power to change the price you pay
Carrier Freedom: we help cover your switching costs
T-Mobile Tuesdays: get thanked with free stuff every week just for being a customer
For even MORE reasons why I love T-Mobile, check out how they focus on doing good...
#TMobileFamilyMode Twitter Party on 7/25
And now that you've seen why you need T-Mobile FamilyMode, please join us for our Twitter party to learn even MORE about it and enter to WIN some incredible prizes! RSVP below to be eligible to win. We can't wait to chat with you!
Hashtag: #TMobileFamilyMode
Host: Hosted by @momtrends and @theshoppingmama
Date and Time: Wednesday, July 25th at 6 PM PT/ 9 PM ET
Prizes: T-Mobile will be giving away 2 Apple Airpods ($159.99 each), 2 PopSockets ($9.99 each), 2 Tile – ProSeries ($34.99 each), 1 Case-Mate Waterfall Glow Case for Samsung Galaxy S9 - Purple Glow ($39.99 each), 1 Apple iPhone 7/8 Tech21 Pure Clear Case – Clear ($39.99 each)
Please see the full rules here.
This post is sponsored by T-Mobile.