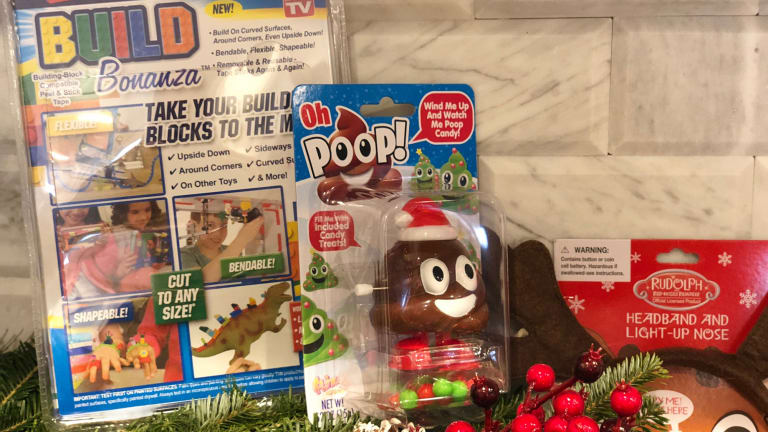 The Best Stocking Stuffers—and How to Save on Them!
Tis the season to be shopping and spending and stuffing and gifting…. Alas, Mama (AKA Mrs. Claus) doesn't have the time to run here, there, and everywhere on a crazy Christmas quest to find all the perfect pint-size presents for her crew of impish elves. Indeed, this lady behind the man in red is far too practical and smart and thrifty to head to the mall or beeline to the department store. No, Mrs. C (eh-hem, I'm talking about myself!) goes straight to the ultimate one-stop shopping destination for all her gifting needs: CVS Pharmacy, of course!
Indeed, CVS Pharmacy has everything you need to fill your family's stockings in one fell swoop—from everyday essentials, like toothbrushes and deodorant (because some practical presents never hurt!) to whimsical holiday decorations, awesome techie toys, cool crafting supplies, yummy chocolates, trending beauty booty, and more.
December 17 through 24 is #StockingStufferWeek at CVS Pharmacy; and it's the perfect time to scoop up everything you, er, Santa (wink-wink) needs to get the job done on Christmas Eve. And since 76 percent of the U.S. population lives within five miles of a CVS Pharmacy, it's never been easier or more convenient to find all the latest and greatest without the typical hassle, usual headache, and clichéd holiday shopping stress! Better yet, the ExtraCare rewards program will have you racking in the savings. After all, tis the season to be shopping and spending and stuffing and gifting… and SAVING!
TOP FINDS FOR THE KIDS
Shopping for adorable gadgets and gizmos and gifties and goodies to stuff in the kids' stockings is without a doubt my favorite part of playing Santa. The look of pure delight on their holly-jolly faces as they reach in to find surprise after surprise always reminds me to cherish these merry mini moments. After all, it really is the little things that make the biggest impressions.
I snagged two Decorate-a-Cookie kits to put in each of my kiddos' stockings. After the lull of present opening, they can sit down for a crafty Christmas morning sugar boost and decorate their own pre-baked gingerbread man. Or, if we're feeling extra ambitious, we can bake a whole batch of ninja-bread cookies from this amazing box I snagged for—get this—less than $7. It includes the dry mix, cookie cutters, and edible decorations to make these kick-butt (get it?) treats.
Of course, at 5 and 3 my kids are obsessed with emojis—and they're fave? You guessed it—the poop emoji. They're going to be tickled by this candy-dispensing poop. (Ah, the simple joys of toddler potty humor.)
My son is obsessed with two things (well, besides poop): Lego-style building blocks and tape—so the Build Bonanza set is a perfect find for his stocking. A balloon animal kit, some more tape (told you!), Hershey's Santa bars, art supplies, and a light-up Rudolph nose and antler set will round out their stockings and make for a fun and silly afternoon. I also grabbed cute winter hats, but couldn't resist a pre Xmas photo-opp!
I was delighted to see that CVS is on trend with these amazing sequin-art pillows. You can change the color of the sequins by swiping up. My little lady is going to adore her glitzy kitten—and I love that it was less than $10.
Speaking of good deals, I saved so much on my one-stop stocking-stuffer shopping at CVS Pharmacy with the ExtraCare Rewards program. ExtraCare members receive exclusive benefits including earning 2% cash back in the form of Quarterly ExtraBucks, personalized savings offers, and app-only deals.
TOP FINDS FOR DAD
Of course, Santa can't ignore the grownups in our house (I admit this is slightly sELF serving). Santa always gives the hubby lots of socks and other practical essentials like hair gel and Flonase! But, don't worry, you can also find more exciting gifts like Bluetooth headphones and virtual reality headsets at CVS too.
We always have an Ugly Sweater theme night with family and friends the week between Christmas and New Year's—so I can't wait to surprise my husband with this Ugly Sweater cookie kit. He'll indulge me… but let's be honest: this is mainly for me!
Best of all, I like to fill my better half's stocking with family photos! We often forget to get the photos off our phones and into frames—so I use the holidays as an opportunity to get tangible copies of our favorite pictures. The CVS app makes it so convenient to get quality prints in no time at all. You can upload images directly from your device or from apps like Instagram and Facebook—and photo orders are typically completed within an hour or so.

TOP FINDS FOR MAMA
Speaking of gifties pour moi, Santa always delivers the goods for his beloved Mrs. Claus. Kitshy holiday and cozy sweater socks are an annual stocking essential. These two pairs are among my favorites found at CVS.
I'm majorly into the sheet mask movement, and these babies were all $10 for 5. I'm a big fan of Beauty 360, CVS Pharmacy's own beauty brand, and I love how they make my skin look hydrated , rejuvenated, and rested—as if I actually did have a silent night (alas, #momlife). I have a feeling Santa will throw in a few more must-have beauty items into my stocking—makeup, nail polish, dry shampoo, facial cleansers, and more.
Finally, I couldn't resist snagging a few decorating essentials while at CVS—a wreath hanger, extra lights, and a beautiful keepsake glass ornament to hang on the tree—this one will always remind me of the many memories made (and the sweet savings scored) this holly-jolly season!
Enjoy your holiday shopping (and savings!).
This is a sponsored post.