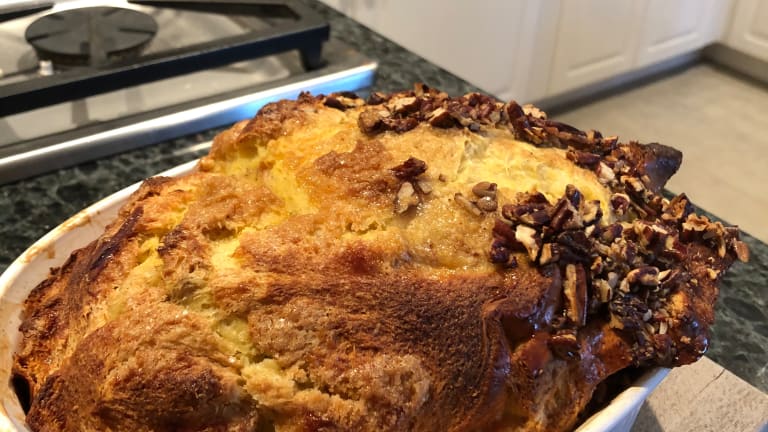 The Best Overnight French Toast Recipe
Try this tasty brunch recipe to break out of your breakfast rut.
We've hit the winter lull--that lengthy stretch of season with no plans, no parties, nothing to do, and nowhere to go. I have to admit that at first, I welcomed the quiet obligation-free weekends of January. After the nonstop hustle-bustle pace of November and December, my family needed some QT and R&R. But a couple of post-holiday Saturdays and Sundays later--trapped indoors, hunkering down, escaping the cold--and we are officially experiencing cabin fever.
Related: 7 make ahead school morning breakfasts that are portable
I'm trying to schedule some weekend outings to get us fresh air and give us a fresh perspective, but carting the kiddos and baby around to museums and malls and play places can feel like more trouble than it's worth when you're contending with frigid temps and, worse yet, flu, strep, and viral germs. 
Do you face the elements and venture out on a weekend or do you wait out the cold (and the--achoo!--colds!) and cozy up on the couch for more screen time, more bored games (emphasis on bored), and more lazing about? It's a winter conundrum for any parent.
Fortunately, I have a trick up my sleeve for when mid-winter malaise hits--for those weekend days when it's too cold to leave the house but too stifling to endure more nothingness. My answer: Brunch. No need to fight crowds of pancake-craving _.  Invite a few friends, family members, and neighbors over for a leisurely meal. It's a low-key, easy, and affordable social event that keeps everyone entertained and well fed.
I love it because it forces me to get dressed, tidy up the house and motivate my family. The kids enjoy it because they get to have playmates at our house first thing in the day. And we all win because it's a good way to spend our time together!
The key is to keep it small and simple. A potluck is fun, but I usually will buy a dozen bagels, make one savory dish--an egg bake or quiche (Costco sells a great frozen quiche Lorraine--I won't tell) and then have my famous overnight french toast ready to pop into the oven as guests arrive. It has a base of butter and brown sugar that smells amazing as it caramelizes in the oven--and gives the impression that I've been working hard to serve something delicious. But, really, it's so simple!
Overnight French Toast Ingredients
1/2 cup of melted butter
1 cup of packed light brown sugar
1 loaf of brioche bread
9 large eggs, beaten
1/2 cup of whole milk 
1/2 cup of half-and-half
1.5 tbsp vanilla extract
1.5 tsp cinnamon
1/2 tsp sugar
Pecans or walnuts, as desired
Dash of salt
Confectionary sugar, as desired
Overnight French Toast Steps
Add the brown sugar to your melted butter and mix well. 
Pour and spread evenly on the bottom of a casserole dish (size depends on preference. I like to use a smaller pan and stack my casserole higher.)
Cut the brioche bread into slices, and quarter.
Stack and arrange the brioche in your casserole dish. 
In a mixing bowl, add milk, half and half, eggs, vanilla, cinnamon, sugar, and salt. Whisk well and pour over your brioche, soaking each individual layer well.
If desired, sprinkle chopped pecans or walnuts on top of your casserole. (I add nuts to only one half since my kids don't like them.)
Seal casserole dish with plastic wrap and refrigerate overnight.
In the morning, take it out of the fridge, and let it sit for 15 minutes. Pre-heat the oven to 350 degrees.
Bake the casserole for 35 - 45 minutes.
Let cool for 15 minutes. Sprinkle confectioner's sugar. 
Note: It's ooey-gooey and delicious served hot, but I think it tastes even better when it's cool!
So there you have it, my cure to the winter blahs in brunch casserole form. Enjoy!
Want more from Momtrends?
PIN IT!
Use Pinterest to save your favorite recipes. Be sure to follow our Kid Food Pinterest board here.
This is not a sponsored post.