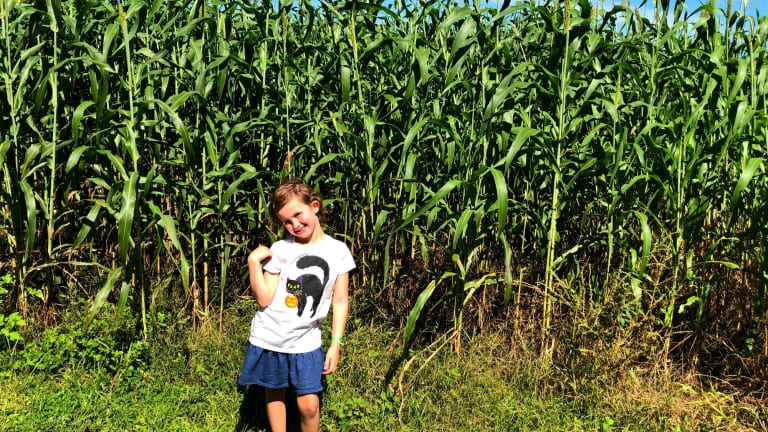 The Best Life Hack to Find Time to Enjoy Fall
How's your fall going? Have you had time to stop and smell the roses...or pumpkins rather? Haha! Thanks to T-Mobile, the best life hack to find time to enjoy fall, I've been fitting in some serious quality time with my people this season. That hasn't always been the case for us. Fall forever seems to be the busiest time of the year at my house. That first quarter of the school year simply kicks us in the booty each and every year. AND each and every year I naively think things will be less stressful. I mean a new school year means the hubs and I have been parents for another solid year. You would think we'd have the hang of things by now.
Guess what? We don't. The kids are in more clubs, taking more lessons, have harder homework...Stress is still alive and well and time is a precious commodity. That being said, this year there is LESS stress and that is definitely a turn of events I appreciate. We've actually figured out how to find time to enjoy fall, and being that it's my favorite season, this mama couldn't be more thrilled. Nothing makes me sadder than seeing another season fly by for my family, especially when it feels like we haven't really taken it in together. I'm sure not alone here...
Save Time with the T-Mobile Team of Experts
So, I'm sure you'll be excited to learn that everyone's favorite Un-Carrier wants you to spend less time worrying about customer service issues and more time with your family this fall. Say goodbye to waiting around for ages for your customer care needs to be taken care of. Instead, say hello to my favorite life hack, the T-Mobile app. I don't know about you, but nothing frustrates me more when I have a service issue and I either have to navigate through a lengthy automated system or I get shuffled from person to person all of who seem to be reading from a script and can rarely offer me a solution, especially a timely one. Well, at T-Mobile, there is a Team of Experts specifically set up for customers in my city who I can message on MY time.
Nothing makes this girl happier than multi-tasking. Being able to message my customer care team at my convenience is, well, simply the BEST. You already know that T-Mobile has been helping me monitor my family's digital habits, well, clearly, that's not all their helping me with. They've given me the gift of time! And since I bet you too would love to spend some more quality time with your family this season, I'm including some of our family's favorite fall activities below! We're working on checking them all off our fall to-do list...
10 Fun Fall Activities for Families
1. Visit a local fall festival.
2. Go apple picking.
3. Take a nature walk and look for leaves.
4. Go to the pumpkin patch.
5. Explore a corn maze.
6. Cheer on your favorite college football team.
7. Visit a haunted house. (Or, better yet, turn your home into one).
8. Bake a pumpkin pie, or apple if you prefer, together.
9. Have a family movie night. (Hocus Pocus is our personal favorite.)
10. Gather pine cones. (You'll be able to use them in your fall and holiday decorating!)
You Need T-Mobile Now
Now that you know what my go-to life hack to find time to enjoy fall is, make sure you head over to T-Mobile to find out even more about their second to none Team of Experts. Like I mentioned, thanks to the handy dandy app I've been raving about, you too can say goodbye to old school customer service headaches and hello to family fun time!
Ok, you'll have to excuse me now, I'm off to whip up a batch of caramel apples for our fall movie party tonight. Hey, look at that. I just gave you another fun fall family active to try! And this time why not try to slice them first, THEN dip them in the caramel and toppings and add the stick. They're much easier to eat that way. What can I say? I'm life hack obsessed!
Join Us for Our #TmobileTEX Twitter Party
Before you go, make sure you RSVP to our #TmobileTEX Twitter Party on 10/25 at 9pm ET! We'll be chatting about how T-Mobile is bringing back real customer service with REAL customer care representatives dedicated to helping  you AND giving away some awesome prizes. RSVP below for your chance to WIN:
This post is sponsored by T-Mobile.