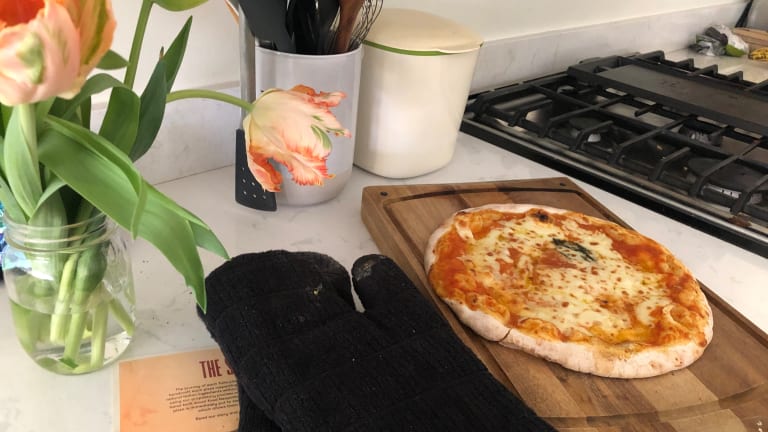 The Best Italian Pizza Can be Shipped to Your Door
My family was thrilled to get a special delivery from Talia di Napoli. It'll blow away any frozen pizza you've ever tried.
I have been a short-order cook this week. I have also been the head of school and the head of the janitorial team. For now, life revolves around the home. Don't get me wrong, I'm feeling fortunate to be healthy and have my family with me, but that doesn't mean I can't feel weary from my time in the kitchen. When I found out that the best Italian pizza can be shipped to your door, I had a little celebration.
Talia di Napoli is currently offering a special 15% off promotion with the code TALIA@HOME
My family was thrilled to get a special delivery from Talia di Napoli.  Shipping is free and available nationwide. Talia di Napoli pizzas are artisanally hand-made using only natural ingredients and no preservatives or additives. The box came with five frozen pizzas with dry ice and we stashed them in the freezer. 
At lunch we heated up the pizzas and were blown away by the quality and taste. Since we live in NYC most of the year, we are pretty much pizza snobs. We only ever get wood-fired pizza from Grimaldi's in DUMBO.  
The Magic of the Sleeping Pizza
They call it 'Sleeping Pizzas' -- each one is made with the Talia di Napoli proprietary process. They are fully baked by the company and then somehow frozen to maintain peak freshness and flavor. There are no preservatives or additives (and no sugar added).
The pizzas are simple to serve. 
Simply pre-heat your oven to 425F. 
Once the oven is hot, take off the plastic wrap 
Pop the pizza on a middle rack. No pan required. 
Set timer for 11 minutes
When the pizza is done, grab your oven mitts and your family and get ready to devour these pizzas.
It's all about the dough
All the pizzas are hand-rolled. Talia di Napoli does not add any chemical yeast. The dough is left to ferment for 24 hours before being used.
For your first order, I suggest the STARTER PACK. You'll get 7 of the best selling Sleeping Pizzas in one delivery:  1x Margherita, 1x Primavera, 1x Mozzarella Pizza, 1x Tartufina, 1x Four Cheese, 1x Broccoli Rabe, 1x Gluten Free Margherita. All for $89.99.
Individual pizzas start at $13.99, but you are definitely going to want to order more than one. 
Head to taliadinapoli.com to order yours.
More Stay-In Ideas from Momtrends
PIN IT!
Looking for more food ideas? Check out the Momtrends Recipe Board on Pinterest!