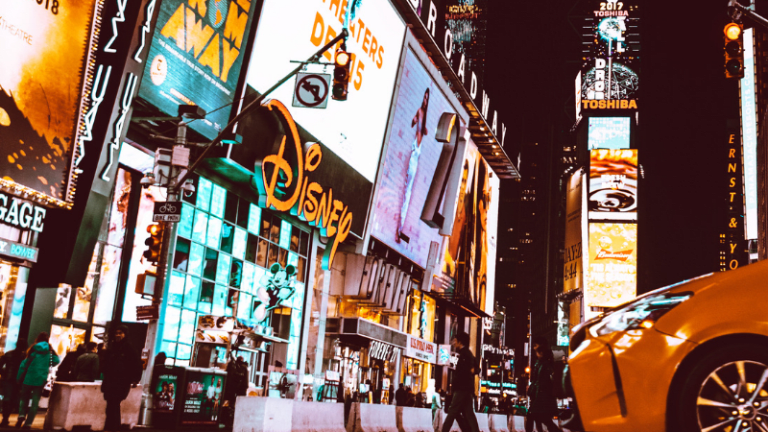 The Best Family-Friendly Broadway Shows
Living in NYC isn't always glamorous. But it sure is exciting. There's never not somewhere to go, something to see, activities to enjoy... We are surrounded by culture and community, and it's amazing to watch our children benefit from this city lifestyle. One of our favorite things to do as a family: go to Broadway musicals and plays. The collective excitement of the audience, the stunning sets, the amazing performances--they all lend to unforgettable experiences for the kids and grownups alike. 
Whether you're a tri-state local or a visiting tourist, we strongly recommend carving out the time (and budget) to see a show with your family. You won't regret the investment in making memories. 
Don't know what to get tickets for? Here are our picks for the top family-friendly Broadway shows--by age range. A trip to the theater district together can transport you to a whole new world. 
BEST SHOW FOR YOUNG CHILDREN
The Lion King
There's a reason this show has lasted on Broadway for over 20 years at the Minskoff Theatre (it actually move there from the Orpheum in 2006). It's more than a musical, it's a visually stunning piece of moving art and dance. The textures, the colors, the costumes add up to one spectacular event.
Frozen
Yes, you already know the music backwards and forwards (and maybe the movie dialogue in-between each song too), but there's something so special about seeing your daughter (guessing here!?) watch her favorite two princesses up on stage. Plus, the sets are stellar, the performances are epic, and the general Disney showmanship makes this one unforgettable.
Aladdin
Another Disney musical makes the cut--no surprise here. Young audience members who didn't grow up on the animated movie will fall in love with the magic, music, and hilarity, while adults who love and know the original will be charmed and disarmed all over again.
School of Rock
What kid doesn't love to rock out? And let me tell you the little ones won't the the only ones dancing in their  seats during this loud crowd-pleasing concert-like experience. The young stars also play all the instruments FOR REAL which adds an element of delight and will leave all ages more than adequately impressed.
BEST SHOW FOR TWEENS
Wicked 
This now classic show, tells the story of the Wizard of Oz from the witches' point of view. The songs are epic (we dare you not to leave the theater belting) and the production has brain, heart, and courage.
Anastasia
Last chance to catch this musical based on the 1997 film; the production closes on March 31. The musical adapts the story of Duchess Anastasia of Russia who escaped the execution of her family. Years later, an orphan with no memory, named Anya, hopes to find some trace of her family by siding with two con men who wish to take advantage of her likeness to the Grand Duchess.
BEST SHOW FOR TEENS
Dear Evan Hanson
Evan Hansen is a teen struggling to socialize. His therapist recommends that he write letters to himself with encouraging words about what will be good about each day. Before the first day of his senior year in high school, his mother suggests that he makes new friends by asking people to sign the cast on his arm, which he broke by falling out of a tree over the summer. A story unfolds through phenomenal music and moving performances that will touch teenagers and adults--who truly understand the struggle to self awareness is real.
My Fair Lady
Oh wouldn't it be loverly to get your teen to see a traditional musical with you--one that has a classic story with classic songs and classic heart? The story of Eliza Doolittle's transformation comes to life in this bright and chipper production.
To Kill a Mockingbird
Assignment: have your teen read (or re-read) the book and then go see the Aaron Sorkin production. It's an amazing piece of theater and an important one at that.
This is not a sponsored post.