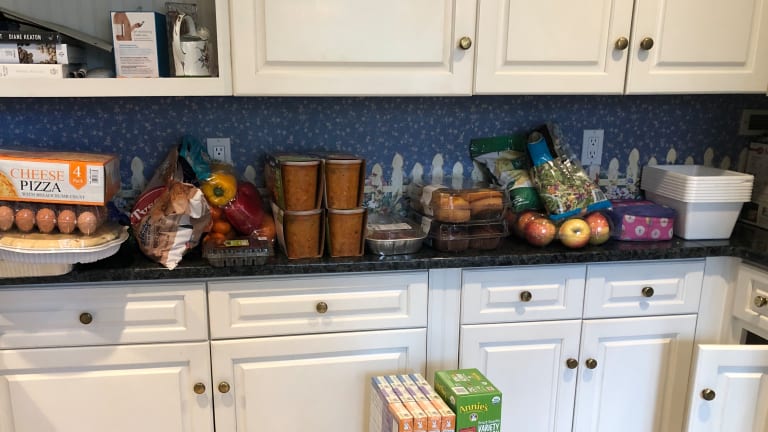 The Best (Almost) Ready-Made Costco Meals to Add to Your Weeknight Rotation
New and beyond easy weeknight dinner options to help you feed the family in a jiffy.
I've been a Costco member for years. It's my go-to store for purchasing household staples: paper towels, T.P., garbage bags, detergent, water, coffee grinds, milk, and eggs. It's also where I stock up on "bottomless" snack supplies for my hungry-hungry-hippo growing kids: big boxes of chocolate-chip granola bars, huge portions of Pirate Booty, endless bags of potato chips, vats of Goldfish, and all the cookies. Here are my go-to items from Costco that help with meal planning. I hope they help you rethink your weeknight rotation of meals.
Fast Is What We Need
When Baby #3 was born, the husband actually did a big cost analysis and discovered that buying the store-brand diapers and wipes would ultimately save us hundreds of dollars. (And FYI, the Kirkland brand is awesome, IMHO, and I've heard they're made by Huggies.) 
But I digress; suffice to say, we really love being Costco members. But my absolute favorite part of shopping those warehouse-style aisles isn't adding up the savings (though that's a perk!), it's discovering new and beyond easy weeknight dinner options.
I hate cooking during the work and school week--there I said it. We're so busy, I don't have the time or energy to buy individual ingredients and make elaborate dishes. Sure, I use the crockpot or InstantPot, but I need all the hacks I can get to keep things simple, delicious, and convenient. And Costco's ready-made section is the answer to my dinnertime woes.
Seven Things to Shop for at Costo
Add these items to your shopping cart and you'll have a week's worth of easy meals.

Tortilla Soup: This soup went "missing" from my store for a good year. I was so bummed--because it is our most trusted go-to lunch and dinner staple. When it magically reappeared a month ago, I was elated and stocked up--at $8.99 for two containers, it's a must-have. Not only is it hearty and delicious, it makes dinnertime a total breeze. Heat a full container (it easily serves two people) in a pot and top with sliced avocado and crunched up tortilla chips. If I'm really feeling ambitious I'll add shredded Mexican cheese and a dollop of sour cream. I'm telling you: we eat this at least twice a week--it's restaurant-quality good! You can find Kirkland's soups in the refrigerated section of your local Costco. 
Chicken Pot Pie: Okay, I'm not a chicken pot pie person, but there's something to be said about popping one in the oven on a cold winter night. When you're craving comfort food, this is a deliciously cozy option. The pastry is crusty and buttery, and the inside is flavorful and rich. Also, it's ginormous--so at around $18, it's a bargain to feed five or six people with the real possibility of leftovers. BTW, if you prefer a sweet pie over a savory one, you've got to try their apple pie--it's the best.
Salmon Milanese With Pesto: Salmon is my least favorite fish because of its strong flavor, so I wasn't sure I'd love this ready-made meal. But, oh man, is it good. The butter-pesto melts and infuses the salmon with decadent deliciousness. While salmon is frequently served on the less-done side, I, personally, like to cook this dish a little longer than recommended. Depending on size, this ready-to-go-in-the-oven option, ranges from about $17 - $20, and it serves three. (When I have leftovers, I serve my salmon cold over a green salad for lunch the next day.) BTW, they also sell a jar of this pesto sauce (Kirkland brand), and it's awesome on pasta salads.
Lasagna: The Kirkland frozen meat lasagna might be the bets deal in the store. It's about $10, and it can feed a whole gang of hungry kiddos and grown-ups. Leave plenty of time to pop this baby in the oven (frozen), and serve it with Kirkland garlic bread and a simple green or Caesar salad. This is a legit feast, and you won't be left disappointed or remotely hungry--promise.
Spinach and Cheese Ravioli: This frozen spinach ravioli cooks in just 10 minutes, and it's super delish. Pour a little olive oil and seasoning over it for an easy main or side dish. Easy as it gets!  
Rotisserie Chicken: Costco is famous for their $4.99 rotisserie chickens; they're great on their own or used as a cheat for simple recipes. I buy two--one to eat for dinner and one to use in meals throughout the week.
Frozen Pizzas: Got a bunch of kids over at your house? Pop these in the oven and pizza night will begin in 3-2-1. They've got a pepperoni option that's also awesome, but my little ones prefer a classic cheese. Heck, serve it with a healthy salad and grown-ups will enjoy the meal, too!
With these goodies in your kitchen you won't have to sweat those questions about what's for dinner. 
Want more from Momtrends?
Pin it!
Looking for more food ideas? Check out the Momtrends Recipe Board on Pinterest!
This is not a sponsored post.