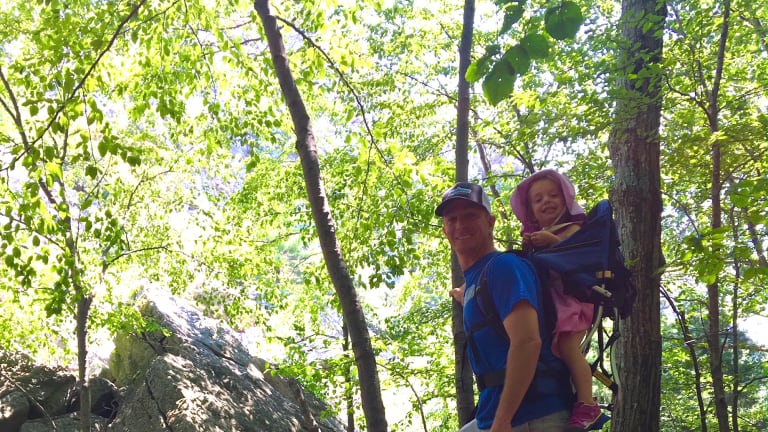 Take A Hike with Your Family
Take a hike to connect with your family. It is good for your mind, body and soul.
Take a Hike! No, literally, Take a Hike!  November 17 is National "Take a Hike Day". Hiking is a great way to not only spend time together as a family, but there's nothing quite like surrounding yourself with nature. Maybe it's the fresh air, maybe it's the bird calls, maybe it's the calm, or maybe it's all of it. Hiking refreshes our family and sets us at ease like nothing else can.
Hiking is a big part of our lives together. Some people think hiking has to involve heavy duty gear, survival skills, and a lot of time. Well, our family hikes couldn't be more opposite. We hike after dinner, when we are traveling and need a break from the car, when we want to explore an unfamiliar environment, or when we are in the mood for visiting a favorite family hiking spot. (We love to note the changes of our favorite trails and how different they look depending on the season.)
Family hikes offer so much. They are a great way for a family to get in exercise and focus on taking care of their bodies. Hikes are great for educational reasons and have given us the opportunity to learn so much about the environment that surrounds us both near and far. Family hikes help to reduce stress, enable you to connect with your family in the most basic of ways and allow you to spend uninterrupted time together.
Benefits of Hiking with Your Family
Over the past few years, an emerging body of research has strongly suggested a number of physical and mental health benefits specific to outdoor activity, in addition to the well-known benefits of an active lifestyle:
 Less anxiety, better memory
 Fewer negative thoughts and lower risk of mental illness
  Less depression, better at dealing with stress
  More energizing than the gym
Where to Find Your Next Hike
If you're looking to explore a new area, need inspiration or tips on where to take a hike with your family, visit the resources below. Happy Hiking!
American Trails, a national, nonprofit organization, has extensive state-by-state lists to help you find a trail.
For families with children, Discover the Forest, a new public service campaign dedicated to connecting kids with nature, has a great search feature and many other resources to explore.
Your local chapter of the Sierra Club may organize group hikes and other outings.
National take a hike day is November 17. Take a hike to connect with your family, it is good for your mind, body and soul. Where will you be headed When You Take a Hike?
MORE FITNESS FROM MOMTRENDS
PIN IT!
Use Pinterest to save your favorite parenting articles. Be sure to follow our Fitness and Health board here.
This is not a sponsored post.