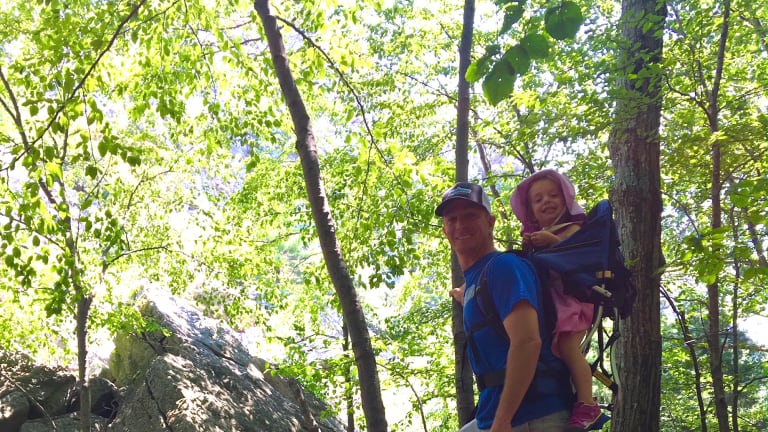 Publish date:
Take A Hike
Take a hike to connect with your family. It is good for your mind, body and soul.
Take a hike to connect with your family. It is good for your mind, body and soul.
Take a Hike! No, literally, Take a Hike!  November 17 is National "Take a Hike Day". Hiking is a great way to not only spend time together as a family, but there's nothing quite like surrounding yourself with nature. Maybe it's the fresh air, maybe it's the bird calls, maybe it's the calm, or maybe it's all of it. Hiking refreshes our family and sets us at ease like nothing else can.
Hiking is a big part of our lives together. Some people think hiking has to involve heavy duty gear, survival skills, and a lot of time. Well, our family hikes couldn't be more opposite. We hike after dinner, when we are traveling and need a break from the car, when we want to explore an unfamiliar environment, or when we are in the mood for visiting a favorite family hiking spot. (We love to note the changes of our favorite trails and how different they look depending on the season.)
Family hikes offer so much. They are a great way for a family to get in exercise and focus on taking care of their bodies. Hikes are great for educational reasons and have given us the opportunity to learn so much about the environment that surrounds us both near and far. Family hikes help to reduce stress, enable you to connect with your family in the most basic of ways and allow you to spend uninterrupted time together.
Over the past few years, an emerging body of research has strongly suggested a number of physical and mental health benefits specific to outdoor activity, in addition to the well-known benefits of an active lifestyle:
 Less anxiety, better memory
 Fewer negative thoughts and lower risk of mental illness
  Less depression, better at dealing with stress

The Ten Best Wooden Play Kitchens For Kids
Cooking is a timeless fascination for children. This type of play goes beyond gender and teaches kids loads of life skills along the way. An investment in a play kitchen is money well spent, as it can provide hours of entertainment. We've rounded up the ten best wooden play ...read more
New Victory Announces a New Season of Shows
We know you're busy planning picnics and summer outings, but we wanted to let you know that The New Victory just announced their new season and it looks fantastic. We thought you'd like a sneak peek of what's in store! Each year the New Vic theater brings culture to tourists and ...read more
Fun Ways to Discover Venice Italy with Your Family
Greetings from Italy wear the gelato is rich, the clothes divine and the scenery is inspiring. Now that I've been to this fine city in the north of Italy, twice, I've amassed a list of favorites to share. These are some fun ways to discover Venice, Italy with your family. ...read more
  More energizing than the gym
If you're looking to explore a new area, need inspiration or tips on where to take a hike with your family, visit the resources below. Happy Hiking!
American Trails, a national, nonprofit organization, has extensive state-by-state lists to help you find a trail.
For families with children, Discover the Forest, a new public service campaign dedicated to connecting kids with nature, has a great search feature and many other resources to explore.
Your local chapter of the Sierra Club may organize group hikes and other outings.
National take a hike day is November 17. Take a hike to connect with your family, it is good for your mind, body and soul.
Where will you be headed When You Take a Hike?
This is not a sponsored post. Thank you to Kaiser Permanente for providing a few tips.  All opinions expressed are our own.