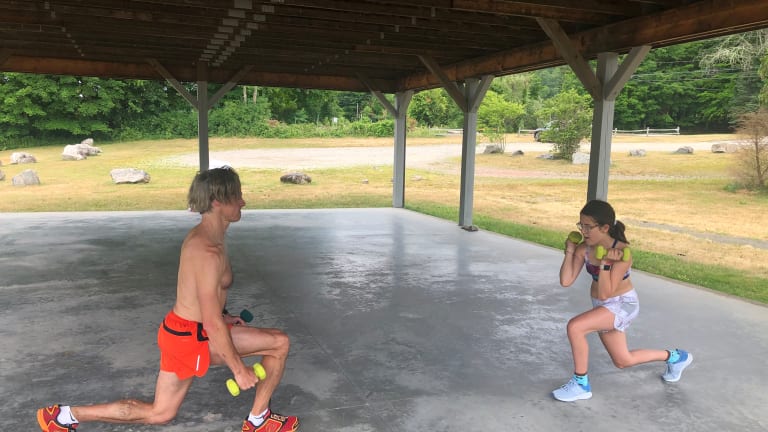 The Benefits of Creating a Family Fitness Routine
It's Time to Limit the Kids' Inactivity (and Yours Too!)
We all know that kids learn best when we model behaviors for them. We can talk all we want about sharing, eating healthy and being kind, but when they see us living these values, they respond. The same goes for fitness. When we make health a priority for ourselves, the kids will be watching and learning. Setting them up for a lifetime of health is just one of the benefits of creating a family fitness routine. Let's learn more ways to get moving.
Right now, we are all experiencing more stress than ever. We've found that a better way to "unwind" is by getting more active. It might seem intuitive, but anyone who's tried to wrangle a teen or tween into a reasonable bedtime after hours on the phone can relate to what I'm saying. While they may think they wants to scroll, they can actually use more physical stimulation. Movement is what makes them feel happier and act more settled after a challenging morning and afternoon of learning and socializing. 
The Benefits of Creating a Family Fitness Routine
And it's not just teens that need to move, the same goes for school age kiddos. The benefits are countless, for the sake of everyone's physical and mental health. Limiting your children's inactivity (and your own!) and stepping up your family fitness game will transform your bodies and minds. I consulted Dr. Jeff E. Sellman, from the Florida Orthopedic Institute, for his top tips and take...
How Much Exercise Does a Child Need?
According to the Center for Disease Control and Prevention, at least 60 minutes of physical activity each day is recommended for children older than six. This includes aerobic exercise, either moderate or vigorous, as well as muscle and bone. Jumping rope, running, gymnastics or walking all are great activities to take up during that hour. However, getting your children into it might not be an easy task if they're already interested in digital gadgets.
How to Make Children Interested in Activity?
Spending time on playgrounds with other children is an excellent way to help your children live a more active lifestyle. Social interaction with peers will help most kids feel engaged at the playground, and will also act as an excellent motivator to start with the activity. If your child prefers only to use their devices, then you'll have to do some guesswork as to which event they might enjoy. Let them try out everything they're interested in, and something is sure to stick sooner or later.
Age-Appropriate Activities
While offering some choice to your children can be crucial, it's equally important to keep any activity age-appropriate. What this means is that younger kids tend to need more fun and simplicity, while older children can handle more complex game rules or commitment to an activity. Parents can also encourage older children to dedicate themselves more to their chosen activity.
Setting Clear Boundaries as Part of Your Routine
As much as encouragement and praise are useful, your children should also be aware of what undesirable behaviors are. In this case, you might want to set boundaries around smartphone use and general screen time. Many families build up a ritual around mealtimes, which is one instance when digital distractions should be far away. Lead by example, and set a limit on your own screen time as well as your children's.
Encouraging Positive Behavior
As a parent, you're a role model to your children. So if you want them to be active, you have to exercise with them, or at least have them notice you're working out. It will set a positive example. Keep in mind that children will follow your lead if you let them know, for instance, that you value activity. That's bound to shake up even the most indifferent, smartphone-loving child.
It's imperative to instill good activity habits in your children early if you wish them to avoid all the consequences of an inactive life. 
MORE FAMILY FITNESS FROM MOMTRENDS
PIN IT!
Use Pinterest to save your favorite parenting articles. Be sure to follow our Running board here.
Tips courtesy of Jeff E. Sellman, M.D. from Florida Orthopedic Institute