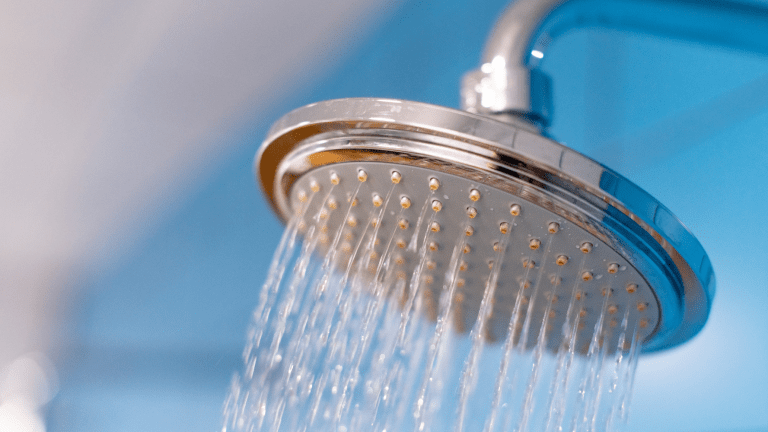 The Benefits of a Cold Shower
Is anyone else binge watching GoopLab on Netflix? I'm officially hooked, and I can't wait for bedtime, so I can sneak downstairs and watch some more with a big pint of ice cream in my lap (but would Gwyneth approve?!)
I was especially intrigued and inspired by the second episode which revolved around breathing, cold exposure, and the practice of Wim Hof. 
It got me thinking: how can I utilize his techniques in my every day life? If you've watched the show already, you know that a big part of his "belief system" is learning to put "mind over matter" and breathing through stressful situations--be they physical or emotional. He also believes in the power of cold water. Diving into frigid lakes, doing yoga half-naked in the snow, and dipping in ice baths--this is all the norm and part of his ritual. He believes that everyone can benefit from clearing their minds and "taking the plunge," literally and figuratively. 
And there's a body of scientific evidence that says he's right--at least when it comes to taking cold showers. It turns out there is a host of health benefits from blasting your body with cold water for a minute or two every day. 
I love me a hot shower and a steamy warm bathroom in the winter, but I decided to channel my inner Elsa and give the cold a try for a few days--and I noticed a few effects almost immediately. 
Here is why you should consider taking a cold shower every day.
Taking a Cold Shower Every Day Benefits Your Skin
The Facts: If your skin has ever felt tight, dry, and itchy after a hot shower, then you probably already realize that the extreme temp of your water is essentially robbing your body of moisture. On the contrary, a "cold shower tightens the pores and it also seals in moisture," Dr. Michele Green, a NYC dermatologist, told Well + Good in a 2018 interview. She also mentioned that cold water can cause blood vessels to constrict, causing the face to look less inflamed. So if you're looking for an almost instant beauty boost, a cold shower might be the key.
My anecdotal evidence: My complexion has been going through a bit of a blah stage. I've been in a skincare rut and have been in the market for a brightening potion to give me a more radiant glow. I've been doing intense moisturizing masks once a week and exfoliating with gentle scrubs every few days, and I've noticed a small change over time with the help of these additions to my routine. But, I'm pleased to say, the cold shower effect offers immediate gratification. It's like the water shocks my skin; I look fresh faced and more youthful right away after stepping out of the shower. Unfortunately, this effect is short lived and doesn't stay with me throughout the entire day. But I'll take it while it lasts. 
Every Day Will Be a Great Hair Day When You Take a Cold Showers
The Facts: For years now, every time I'd go to the salon for a cut or blowout, I would ask that they end my shampoo sesh with a cold rinse. I really didn't know why, but someone had once mentioned that the style would last longer. Once I started my cold shower routine, I decided to do a little light research. 
According to Self 'the cold water trick is based on the anatomy of the hair shaft, specifically the surrounding layer of overlapping cells called the cuticle." Using cold water helps to remove excess product without stripping away moisture. It also closes down the cuticle cell to lock in ingredients and water creating a smoother and shinier look.
My Anecdotal Evidence: I'm not sure I see a big difference in m hair every time I rinse with cold water. I've been trying to train my hair to go longer between shampoos, and this has definitely helped my mane look healthier and more vibrant--so I have to credit this action first and foremost. But I will say my hair feels softer with the use cold water. One thing is for sure: it's certainly not hurting, so I'll keep on asking at the salon.
Cold Showers Will Help Improve Your Mood and Mental State
The Facts: A study found that taking a cold shower for up to 5 minutes a few times per week helped relieve symptoms of depression.
According to Healthline, the ''cold water sends electrical impulses to your brain that jolt your system to increase alertness, clarity, and energy." A cold shower will also lead to the release of endorphins, which, in turn, helps you feel happy and content.
My Anecdotal Evidence: I can attest to this. I feel like super charged after my cold morning rinse. It sets me up for a productive day, and is, dare i say, more effective than my beloved coffee (which I'm not giving up, FYI).  
Daily Cold Showers Will Improve Your Circulation 
According to Healthline, "increased circulation is one of the top reasons experts recommend cold showers. As cold water hits your body and external limbs, it causes your blood to circulate at faster rates to maintain ideal body temperature." This, in turn, reduces inflammation and can help improve cardiovascular function.
Want more from Momtrends?
1. How to Turn Your Shower Into a Spa-Like Oasis