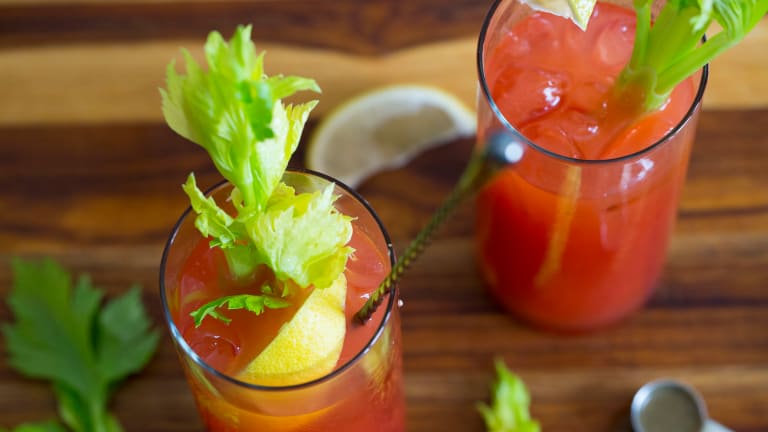 A Thai Inspired Bloody Mary That Will Knock Your Socks Off
If you follow along with my cocktail column here on Momtrends, you already know that I am HUGE brunch fan. Brunch, for me, conjures up images of bellinis, mimosas, and bloody Marys.
While I'm a big fan of the first two, the Bloody Mary has never been a cocktail I've liked.  Until Now. I think my biggest issue with the traditional recipe is that I do not like horseradish.    
So, being the problem solver that I am, I replaced the horseradish and tobasco with a Thai green hot sauce. This sauce is medium on the heat scale, but brings forth bright flavors like lemongrass and basil. And we all know tomato and basil are good buddies.
My husband is a huge hot sauce fan, so our pantry is full of small-batch craft hot sauce. I am so happy I raided his stash for this yummy Thai inspired version of the Bloody Mary--especially since it's my turn to host brunch for my girlfriends.  
Brunch with girlfriends needs a signature cocktail. It's always such a great time catching up. We've all been friends since college and have all moved into the married with kids stage of life so the small amount of time we get I cherish. I am grateful for the decade-long friendship we have all shared.
If you have girlfriends like that, call them up and invite them over! No excuses, ladies!  None of us care if a preschooler designs your house at the moment. Time spent together trumps all things. And, of course, be sure whip up this super simple amazing Bloody Mary to celebrate!
Ingredients-makes one cocktail
6 ounces Tomato juice
2 ounces Vodka
1 teaspoon Lemon juice
1 teaspoon Thai Green hot sauce
Ice
Salt (optional)
Directions
Fill a tall tumbler 3/4 full with ice. Add the other ingredients and stir well. Add a dash of salt if you would like. Garnish with a stalk of celery and extra lemon wedge. Serve immediately.  
Happy Sipping!
Be sure to share this and check out these other Bruch favorites: Mango Bellini, Spiced Pear Spritzer, and Pomegranate Mimosa!