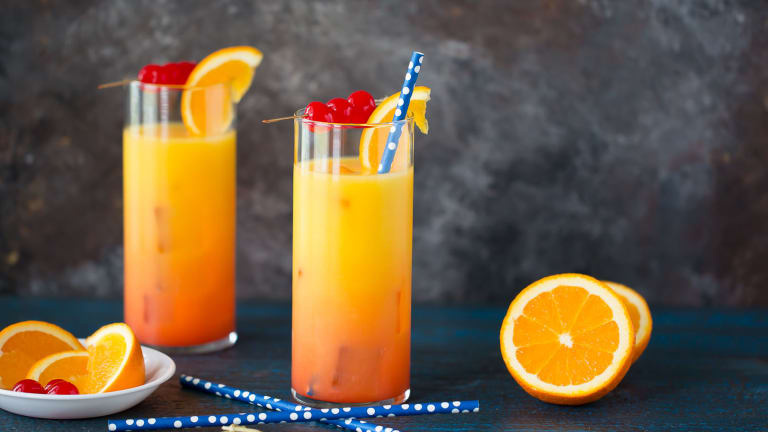 Tequila Sunrise Cocktail
The tequila sunrise cocktail has been an official cocktail since the 1930s and it's still going strong, here's our classic recipe.
Sometimes you just want a reliable classic. Something you know will be wonderful and will deliver every time. Whether we are discussing a delicious classic meal such as a French beef bourguignon or a classic cocktail like a tequila sunrise, they have stood the test of time for a reason.   
Related: Watermelon slush cocktail recipe
The tequila sunrise cocktail has been an official cocktail since the 1930s and gained a lot of popularity in the 1970s. Songs have even been written about the gorgeous layered concoction during the height of its popularity.   
There are many variations of this cocktail now that feature anything from rum to vodka, but one thing remains consistent among the variations: the gorgeous layers.
The beautiful layered effect is the signature of this cocktail and it is obtained by being careful not to mix the cocktail.  
To make the layers, add the tequila to a collins glass followed by the orange juice. When it's time to add the grenadine use a spoon to carefully guide the syrup down the glass wall to avoid mixing.  
Because the syrup is denser it will sink to the bottom creating the signature gradient layering that resembles none other than a gorgeous sunset. And, of course, it tastes great.  It's the perfect brunch or pool-day cocktail.
You can adjust the strength of the drink to your taste, but the official ratio is 3 parts tequila to 6 parts orange juice and 1 part grenadine.
Ingredients-makes one cocktail
4 ounces tequila
8 ounces orange juice
1 ounce grenadine  
Directions
Fill a collins glass halfway with ice.  Add the tequila and then the orange juice. Finally, use a spoon to guide the grenadine down the side wall of the glass to create the layered effect. Garnish with orange slices and cherries and serve.  
Happy Sipping!
MORE COCKTAILS AND ENTERTAINING IDEAS FROM MOMTRENDS
Be sure to share this post and check out our other cocktails. All perfect to sip and relax enjoying the warmer weather!
PIN IT!
Use Pinterest to save your favorite cocktail ideas. Be sure to follow our Drinks board here.