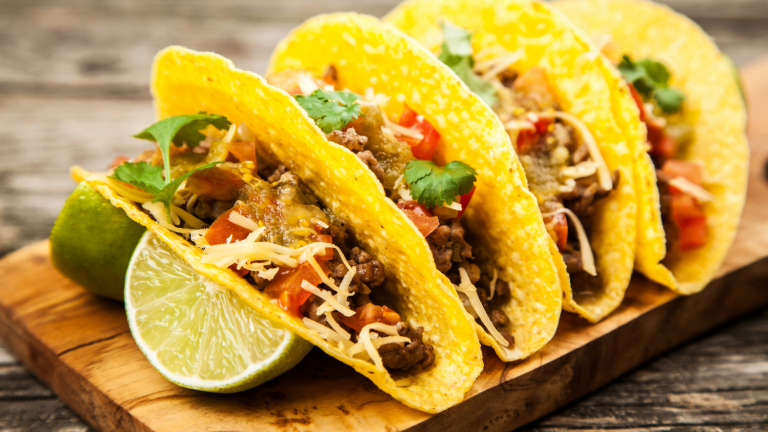 Ten Awesome Taco Tuesday Recipes
We are celebrating fun ways to celebrate this kid-friendly favorite Mexican meal.
My kids love helping cook dinner and they really love when we do theme nights: Meatless Monday, Taco Tuesday and Stir-Friday. Of course, you can probably guess that our favorite is Taco Tuesday, because, you know, tacos! Did you know that today just so happens to be National Taco Day as well as Taco Tuesday. We're celebrating in our house by making one of these new Taco Tuesday Recipes. And we'll be serving up our favorite margaritas for the adults, because what good is Taco Tuesday without Tequila?!
Related: 10 must try recipes for avocado lovers
We're creatures of habit and our family usually sticks to the tried-and-true beef tacos with a taco bar assortment of add-ons. First, we set out bowls everything from black beans, jalapeños, guacamole and of course cheese, lots of cheese. Once we've prepped all the toppings in a taco decorating station I let everyone mix and match their tacos to their preference.
In honor of National Taco Day tomorrow, I'm mix things up a bit we've rounded up 10 awesome taco recipes. Pin them for later and give them a try for your next Taco Tuesday!
Taco Tuesday Recipes
While we love having Taco Tuesday as part of our weekly menu, it's good to change things up a bit. These recipes/tacos are calling my name. I love the idea of creating some meatless tacos or adding in seafood for a change to see how my kids like it and we hope you will too!
What's your favorite taco recipe?
MORE FUN FOOD IDEAS FROM MOMTRENDS
PIN IT!
Use Pinterest to save your favorite recipes. Be sure to follow our Kid Food Pinterest board here.
This is not compensated for this post.