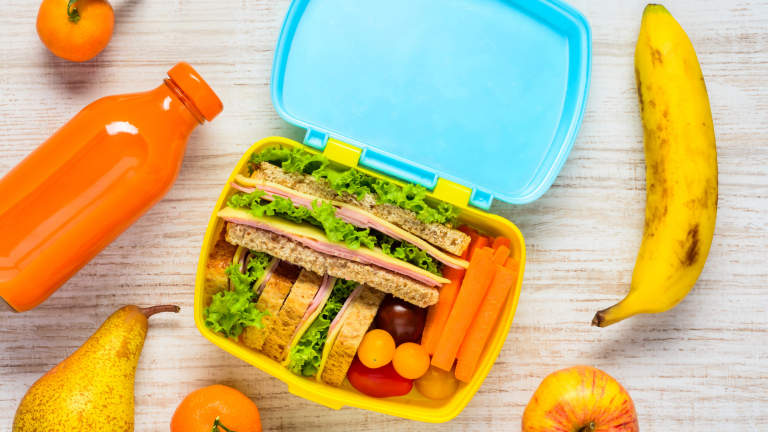 Tweens and teens might think they have an abundant list of chores to complete at home-- laundry, trash, cleaning, dishes... And they might seem less than enthused about performing all these tasks. But we have one that both children and adults can get jazzed about: making a school lunch. It might not sound thrilling, but with some versatile options and a little encouragement and confidence, tweens can become mini lunchbox chefs. 
· Give them options. Make a big effort to purchase special items they request, especially stuff not on the regular weekly list…and reward them with something modest but meaningful after a week of completed lunches.
· Make it convenient, keep it fun. On-the-go snack items and beverages are lifesavers for teens that are always rushing in the morning. One of Josh's quick-pack favorites is SunnyD's lunchbox size bottles, especially the new lemonade flavor, which even inspired him to create this tasty cake recipe.
· Get them a cool carrier. Brown bags serve their purpose, but lunch boxes have come a long way. From patterns to retro to bento boxes, inspire your teen's inner lunch chef by treating them to a cool new lunch carrier they'll actually want to bring to school. (Pro tip: leave the choice up to them, setting limits for budget.) 

Save Money at a Ski Swap
Are the slopes in your future? If you want o save money on ski gear, consider a ski swap.  Connecticut  Ski Sundown SKI SWAP 2021. The Sundown Ski Patrol Ski Swap is one of New England's largest and longest-running swaps. Held in the Ski Sundown base lodge, you'll find a large ...read more
The Ten Best Wooden Play Kitchens For Kids
Cooking is a timeless fascination for children. This type of play goes beyond gender and teaches kids loads of life skills along the way. An investment in a play kitchen is money well spent, as it can provide hours of entertainment. We've rounded up the ten best wooden play ...read more
New Victory Announces a New Season of Shows
We know you're busy planning picnics and summer outings, but we wanted to let you know that The New Victory just announced their new season and it looks fantastic. We thought you'd like a sneak peek of what's in store! Each year the New Vic theater brings culture to tourists and ...read more
Want more from Momtrends?
1. Nutritionist-Approved Lunchbox Essentials
2. Power Your Lunchbox Promise
3. Tasty Twists on Traditional Lunchbox Sandwiches
This is not a sponsored post. Tips by MasterChef Junior finalist and teen chefluencer, Josh Reisner