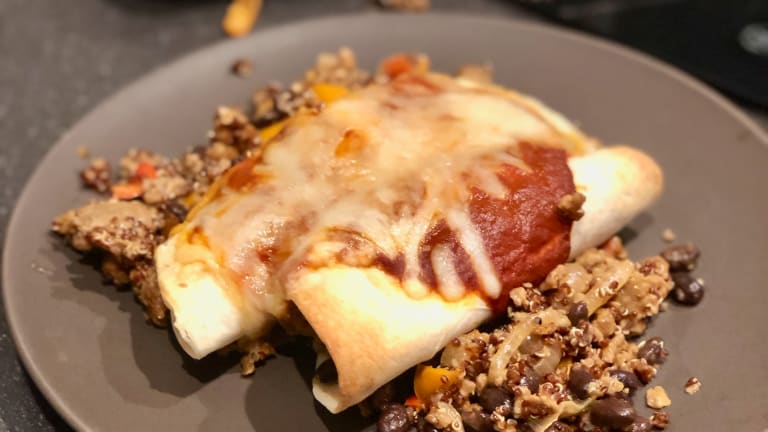 Tasty Meatless Enchiladas Recipe with Beyond Beef
Blue Apron teams up with Beyond Beef on a tasty new meatless Mexican recipe.
My friends have been raving about Beyond Beef burgers for awhile. No, I don't hang out with only vegans, my crowd has families who are trying to cut down on the amount of red meat they consume. The trend of meatless meat is taking hold here in NYC. When Blue Apron approached me to try a new recipe for tasty meatless enchiladas recipe with Beyond Beef, I jumped at the chance to broaden my options for meat-free meals.
Related: Easy recipe to celebrate National Pretzel Day
We've been trying to keep Monday meat-free and to dine on fish most other nights. It's an effort to keep our diet healthy and be kinder to the earth, while also having variety and FUN in our meals. My kids are now tremendous fish eaters (it took a bit, click here for my tips). In addition, I have a small assortment of meat-free dinners including this beloved quiche recipe, but I'm always looking for more to keep things fresh.
Blue Apron teams up with Beyond Beef 
I served this meal up last Friday and it was a HUGE hit. We had my in-laws over for dinner (they are in their late 80's) and they had no clue that this was a vegetarian meal. When I say it wad devoured, that is an understatement. Everyone wanted to know when I would next make this meal.
I've been a fan of Blue Apron for years. The recipes are always top notch AND they have incredibly fresh ingredients. This recipe shows that they are always looking for what's new and what's next. This enchilada recipe is made with a filling from plant-based ground Beyond Beef. Bonus: Instead of rice, there's wholesome quinoa and the results are awesome.
Ingredients for Tasty Meatless Enchilada Recipe
1lb plant-based ground beyond beef
8 flour tortillas
1 15.5oz can black beans
1/2 cup quinoa
3/4 cup Guajillo chile sauce
1 tbsp hot sauce
4 oz shredded Monterey jack cheese
1 yellow onion
1/2 lb sweet peppers
2 cloves garlic
1 lime
1/2 cup sour cream
2 tbsps maple syrup
1 tbsp Mexican spice blend
Directions Tasty Meatless Enchilada Recipe
Preheat oven to 450
Fill sauce pot up 3/4 of the way with water, add salt and bring to a boil. 
Add quinoa to pot, cook uncovered for 15 minutes. Drain thoroughly
Wash peppers and thinly slice
Thinly slice onion
Chop garlic.
Drain beans. 
Mix garlic and beans in a bowl (Momtrends tip: we only used 1/2 the garlic)
Zest the lime (save the zest) then half the lime.
In a bowl whisk together lime zest, 1/4 cup sour cream and juice of 1/2 lime. Set this aside to be served when the enchiladas are ready.
In a large non-stick pan heat a drizzle of olive oil. Add onion and peppers. Season with salt and pepper. Cook 2-3 minutes or until slightly softened.
Add Beyond Beed and spice blend. Season with salt & pepper. Cook stirring frequently and breakling beef apart with a spoon. 4-6 minutes or until browned. (Momtrends tip: we only used 1/2 the spice mix since my in-laws don't love spicy food)
Add the garlic and beans mix, maple syrup and a splash of hot sauce.
Transfer mix to large bowl
Add in drained quinoa, remaining 1/4 cup of sour cream and the remaining 1/2 lime. Stir.
Place tortillas on work surface
Spread 3 cups of mix into a baking dish
Divide remaining mix into the 8 tortillas and wrap tightly placing them in dish,
Evenly top with the guajillo sauce and cheese
Bake 8-10 minutes.
Serve topped with sour cream and cheese.

Why Get Blue Apron Meals
As you can see, there are MANY steps and a fair amount of ingredients involved. Blue Apron is phenomenal at providing busy families with real home cooke inspiration. They offer an ingredient-and-recipe meal kit service that works for working parents. 
This meal served 4 adults and one tween. Calories per serving were 850 according to the packaging. The meal contains 44g of protein per serving.
We served it with a prepared bagged salad from Fresh Direct called the Earthbound Farm Organic Chopped Salad Southwest Kit mix. I will 100% order this meal again and I'm smitten with Beyond Beef.
The Beyond Beef Mission
I heard Guy Raz interview Ethan Brown years ago talking about the future of meat substitutes. It seemed like a great idea. I've been a fan of veggie burgers over the years, but they certainly taste like, well veggie burgers. This tastes and feels like real meat in your mouth. This is not a compromise on taste or fun.
The mission of the brand is to find a "better way to feed the planet." It's about promoting human health, fighting climate change, and looking out for animal welfare. Find out more about Beyond Beef here.
More Tips for Healthy Family Meals from Momtrends
Pin it!
Use pinterest to save your favorite recipes. Be sure to follow our Healthy Eats board
This Tasty Meatless Enchiladas Recipe with Beyond Beef feature is not sponsored.