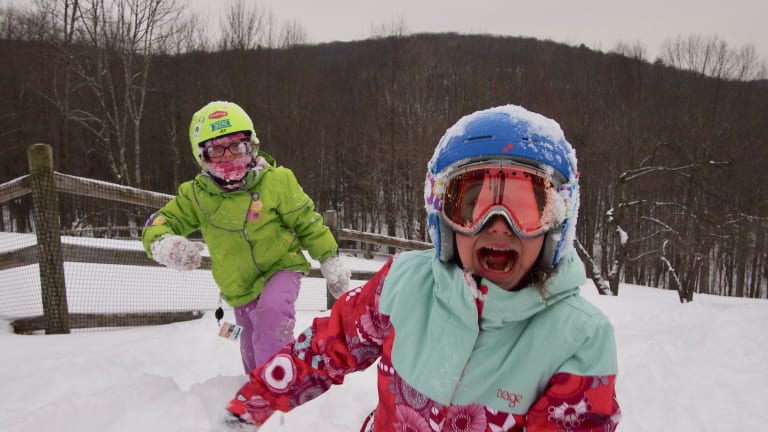 Publish date:
Taking Care of Hand-Me-Downs
In our family, we don't get bummed out about cold weather. We embrace it and head outdoors. That means getting the right gear to keep the girls warm and cozy on the snowiest coldest days. I've gotten really good at getting deals on ski gear and finding brands that can last for more than a year. I've also gotten really good at laundry. I want to make our ski clothes last for seasons.
Momtrends Tip: Look for brands that have the extendable hems on them! And when it comes to ski pants, get the ones with suspenders!
A lot of time, energy and money goes into getting the right gear. Once we have it, I try hard to take care of it. That's where my laundry tips come in. But first, let's talk about how I pick my gear.
When it comes to keeping the girls outfitted in winter gear, first the style has to be appealing. Studies show 100% of kids won't wear coats (or will whine about it) if they don't like the color or print.  
We tend to shop end of season sales on our last ski trip of the year. This red coat and pant set was purchased in 2013 at Crested Butte. We bought a size bigger so it would work for the 2014 season. Then it worked for our older daughter for the 2015 too. 
Guess what? God blessed me with two messy, silly, wonderful girls and just about every piece of ski clothing and gear that CAN be passed down will be passed down. 
Ski clothes are expensive. I have no problem buying a $200 coat for the girls, if I am confident the coat will have a long, healthy life! The red pants and jacket then went on to have TWO MORE SKI SEASONS. Finding quality and making it last has saved me headaches and thousands of dollars over the years.
Since our ski family relies on hand-me-downs, I need the right laundry products to make these clothes last. Clorox® Strain Remover & Color Booster is my go-to as it keeps cherished clothes looking good and extending their life in the family…for future hand-me-downs..
Things can get messy out there in the snow (and I don't mean the "yard sale" falls that our family has!). I mean when the cocoa gets spilled and the chili falls in my lap or all over my coat!
Lucky for me, I've learned that stained clothes can be saved even after they've gone through the dryer. For years, I've been using Clorox 2® Stain Remover & Color Boosterto tackle any stain and keep my clothes fresh and bright. I pre-treat with the Clorox 2® Pre-Treat Stain Remover Pen, then wash as usual with and my favorite detergent.
While you know I love style, I don't love to shop. Once I find a great piece of clothing I care for it. I know that Clorox 2® extends the life of our ski clothes and keeps them looking new.
Laundry Care Tips for Hand-me-downs
1. Treat the stains early to remove tough stains. Pack a Clorox 2® Stain Remover & Color Booster on your trips if you plan on doing laundry. A small amount can have BIG power when it comes to getting stains out. For best results, apply this product directly to stains. Rub in gently and set for 5–10 minutes. 
Momtrends Tip: Do not allow to dry on fabric.
2. To remove stains and boost colors, add Clorox 2® Stain Remover & Color Booster with your favorite detergent. You can actually remove 4X more stains and brighten 2X more than using detergent alone.
3. For extra-dirty clothes, pre-soak the garments before you run the wash. Create a mixture of 1 cap-full of Clorox 2® (to the first line) and 2 gallons of water (the warmest water recommended on the care label). Pre-soak for 30 minutes.
Momtrends Tip: For anyone who has sensitive skin or allergies, there's also a Clorox 2® made without dyes and perfumes. Try the Clorox 2® Free and Clear formula option, it's not only great for sensitive skin but also tackles tough stains. 
Learn more about Clorox 2® at www.clorox.com.
This Taking Care of Hand-me-downs feature is part of a sponsored campaign with The Clorox Company as a part of the Clorox® Influencer program.