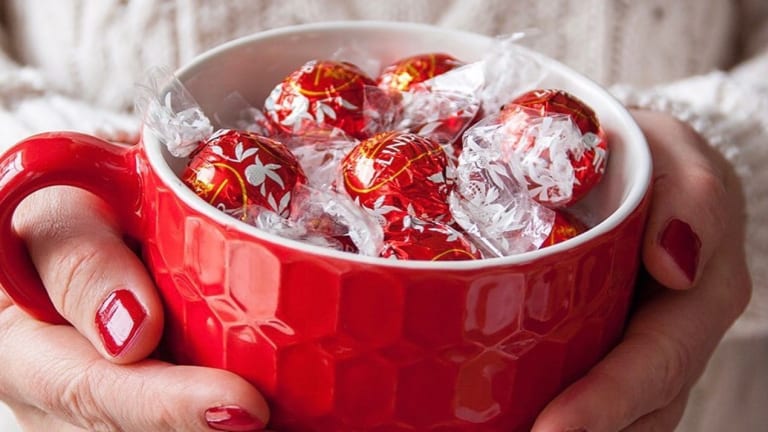 Sweet Valentine Chocolate Treat Ideas
Treat yourself and those you love to the best chocolate for eating and sharing.
This Valentine's Day we are enjoying something sweet from Lindt, but are putting a twist on how we share our favorite part of this holiday. We've come up with four new ways to enjoy a sweet Valentine chocolate treat. 
Wondering what to sip? Check out these three easy Valentine's Day cocktails.
During a recent interview with Lindt Master Chocolatier, Ann Czaja, I learned more how the company has strident quality control and tasting protocol where it takes about one year for the product to reach consumers. She also shared some entertaining ideas with their chocolates. Check out some of her tips below as you savor your chocolate this Valentine's Day.
4 Sweet Valentine Chocolate Treat Ideas 
If you are the party host, break up your chocolate bars as a dessert for people to nibble on smaller bites and sample various flavors such as the Crunchy Caramel with Sea Salt Classic Recipe Bar.
Have a brownie party where you have a variety of mixes and guests can include their favorite chocolate pieces for a tasty and chocolate treat.
Have a test testing where you offer a variety of LINDT products and guests and have guess what they are eating.
Put out a bowl of Milk Chocolate Covered Almonds Bag for some sweet and simple ways to nibble on chocolate.
Get Better Chocolate
No matter how you eat it, the quality of the product is what matters most. Lindt has been around since 1845, and are renowned for their masterful recipe and premium ingredients that are perfected by the Lindt Maîtres Chocolatiers. Treat yourself and those you love to the best chocolate for eating and sharing.
MORE WAYS TO MAKE IT A HAPPY VALENTINE'S DAY!
PIN IT!
Be sure to follow our Valentine's board and pin your favorite ideas.