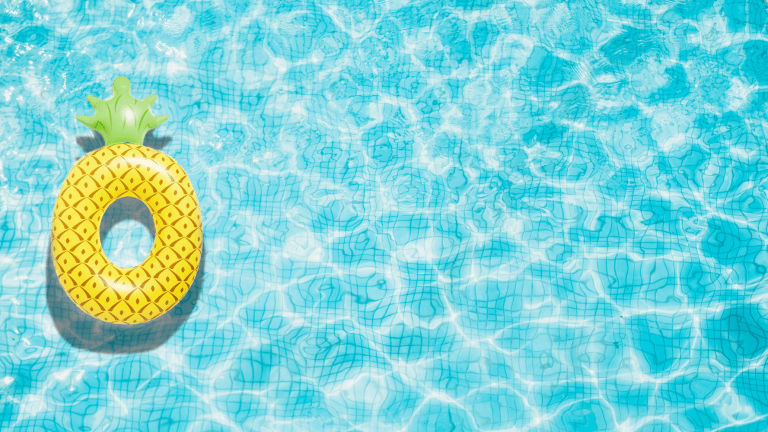 Tips to Keep Your Pool in Top Shape All Summer
We reached out to the experts at Pool Troopers for their expert tips to keep your pool in tip-top shape at a low cost.
Don't be jealous, but I bought a "pandemic pool" in early May before they old sold out. Things were bad in New York, and I assumed summer camp would be a no-go, so I wanted to make sure my kids would be able to swim. It's the only thing they truly enjoy about the summer-- they don't do well in heat (ha!). And, so, PANDEMIC POOL!
Related: Swim safety tips
Keep Your Pool in Top Shape
I honestly joke that I got the last Intex metal frame pool available on the internet. The week after my impulse purchase, I saw the same one I snagged for $375 listed on eBay for triple that price. I have to admit, I debated making a profit for myself, but then remembered that my kids would be bored and hot the whole season. 
So, fast forward to this week, we finally got our PP up and running. We bought pool chemicals and a solar heater, and while the entire thing takes up way too much space and is a major eye sore, my kids happily spend the day splashing around and getting exhausted; it's a win. 
Still, we are just learning the ropes of tending to a pool. Turns out, even these temporary options need to be well preserved--especially if you want them to last more than one season. 
If you, too, have a pandemic pop-up pool-- or splurged on a new above ground or in ground pool (good for you!), we've got you covered. We reached out to the experts at Pool Troopers for their expert tips to keep your pool in tip-top shape without spending a lot of extra money. Happy swimming!
1. Maintain the chemical balance of your pool
Your pool's chemical balance is of vital importance. Maintaining the chemical balance may require a bit of time and effort, but it will also prevent cloudy water and algae growth in your pool. It's always better to have a clean swimming pool than to pay for removing algae later. Not to mention, your pool water will always be perfectly clear, and you will be able to enjoy it more.
2. Clean the pool regularly
An unclean pool means that pumps and filters will be overworked and use more energy, which will increase maintenance costs. Clean the pool once weekly during the summer season. This will help keep debris away from your filter and pump. Also, clean the filter baskets and the strainer regularly. A clean pool uses less chemicals and therefore stays safer longer for swimmers.
3. Track the functioning of the system
Pools have many parts; some run constantly and others only periodically. Although pumps and filters are expensive, don't forget items like cleaner heads, hoses and brushes. They can create maintenance problems if they become too worn, so check them regularly. Clean them regularly, and don't leave them on the ground or let them dry in the sun.
Regular cleaning will also enable professionals to track the functioning of the system and prevent untimely breakdowns. The money you spend on these simple services will save you from the costs of replacing the pumps and filters prematurely.
Maintaining your pool by yourself can be more expensive, if not done correctly. You'll also save a lot of time if you hire a team of experts to do the work for you. Professional technicians can help you by thoroughly cleaning your pool and inspecting the area to notify you of any problems, such as cracks or any other damage that could lead to further expensive repairs if ignored. The pool and the pool equipment should also be checked frequently in order to ensure that they are repaired or replaced in time.
Instead of neglecting your pool's parts and checking everything periodically, regular maintenance will make its parts last longer with fewer replacements.
WANT MORE FROM MOMTRENDS?
PIN IT!
Need more ideas on what to do with the kids? Be sure to follow our Activities to Do with the Kids board on Pinterest here.
This is not a sponsored post. Tips by Pool Troopers