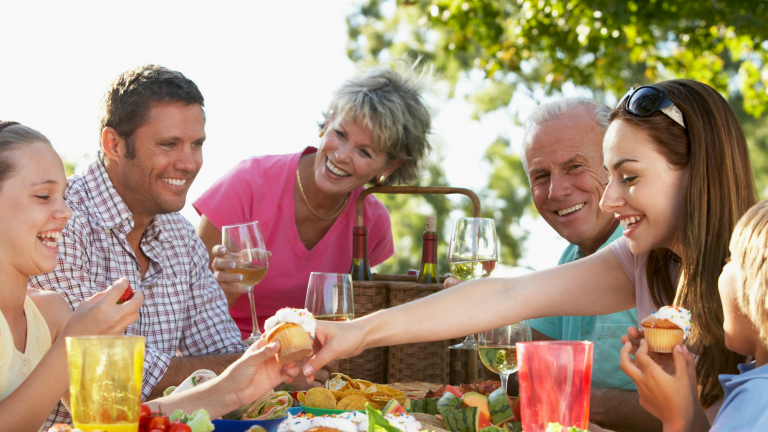 Summer Kitchen Essentials Under $50
These summer kitchen essentials are great tools for easy meals...
My sister and I have a running joke throughout the year that we countdown not how many school days are left, but how many lunches to pack we have left. To me, this is a big plus of the summer. Summer is all about spending time together, reconnecting, and easy, breezy living. Meal prep should not be a source of stress, especially in the summer. We want to ride the chillax vibe as long as possible and we have summer kitchen essentials (all under $50!) to help you do just that.
1. Coated Tomato Knife 2. Epare Salt & Pepper Grinder Set 3.Guac-Lock 4. Silpat baking mats 5. Oil & Vinegar Jar Set 6. Sauce Jar 7. Basting Brush 8. Pie Dish 9. Air Fryer 10. Pressure Cooker
1. Coated Tomato Knife: Our FIRST tomatoes are popping out and we want to be prepared. This coated knife from pampered chef is one of my favorites and gives the perfect slice every time! ($16!).
2. Epare Art Deco Salt & Pepper Grinder Set:  Freshly ground salt and pepper gives everything an added punch of flavor and great texture. Upgrade your steel salt & pepper grinder set with this modern design! The balanced, adjustable ceramic core grinder features a glass base, wrapped in a steel casing with a contemporary pattern making all of your grinding needs a cinch! Bonus? Hardened glass jars boast a 3/4 cup capacity while the wide mouth of the jar makes refilling effortless. ($19.95) 
3. Guac-Lock: This gadget is a game-changer! Guacamole is Summer! Am I right? Now your freshly made guacamole will last more than two hours in this convenient , innovative Guac-Lock from Casabella. Try this amazing homemade guac recipe~easy, and delish! ($19.99)
4. Baking Mats: There's always time for freshly made cookies! These no-stick mats (macaron or cookie) make clean up, just-right baking, and space management a breeze. These silicone mats from Silpat have made baking with the kiddos so much easier. (<$25 )
5. Oil & Vinegar Jar Set: Get ready to drizzle! When marinating, prepping for a salad or getting ready to roast those summer veggies, this Epare Oil & Vinegar Jar set is up tp the task. The set is crafted from light and break resistant Borosilicate glass with drip catching spouts (drips back into the vessel rather than on the side of the container!) Love that we can easily mix up our own blend using the convenient volume marks. The oil and vinegar stays fresh longer because of the tight soft silicone tops ($24.95)
6. Sauce Jar: Nothing like fresh, homemade sauce poured warm. This sauce jar from Le Creuset keeps sauces warm, and its easy-pour design makes it a practical addition to the table. Pair with a basting brush when grilling meats. ($20) 
7. Basting Brush: One tool, many jobs! This durable basting brush from Le Creuset can be use to spread, stir, scrape or scoop. ($12)
8. Pie Dish: Bake a fresh blueberry pie using a Le Creuset Heritage Pie Dish. A pie baked in this dish will have a crust that's perfectly browned and flaky – never burnt – thanks to its stoneware material that absorbs and distributes heat evenly. ($50)
9. Air Fryer: Have you tried this trend yet? Get "fried" results without all the oil and fat! This 2.2-quart air fryer from Gourmia has a removable basket and is great for 100% oil and fat free everyday meals. The simple dials let you easily adjust the time and temperature for a variety of dishes. This Gourmia Air Fryer uses rapid air circulation to quickly and evenly cook foods. ($34.99)
10. Pressure Cooker: Want a home-cooked meal but don't have a lot of time? You must try the easy-living that comes with using a pressure cooker. No more hours in the kitchen, the Gourmia 4-Qt pressure cooker multi-talented pressure cookers includes 13 cooking modes and reduce cooking time by up to 70%. ($50).
What's your favorite summer kitchen essential? 
This is not a sponsored post. This post contains affiliate links and some samples were gifted.