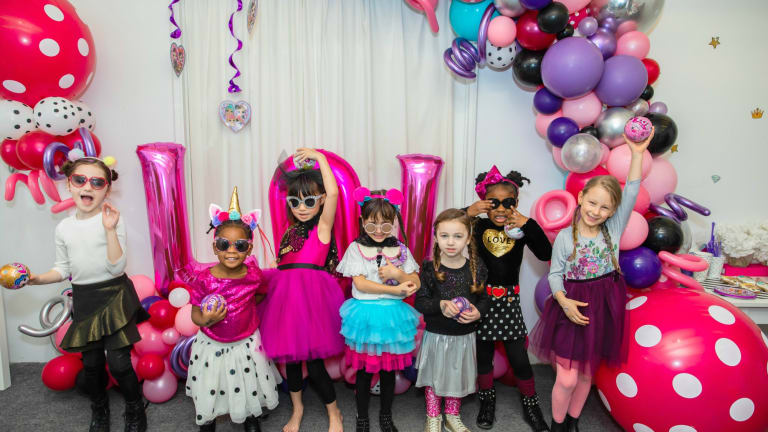 7 Stylish L.O.L. Surprise Birthday Party Ideas
This year, my girly girl wanted a L.O.L Surprise Doll themed party and I happily obliged 'cuz just LOOK at these adorable, toys! What's not to love? They are miniature and fabulous just like HER! If you are as obsessed about these collectibles as we are, or know someone who is, you (and your friends) will love these 7 stylish ways to surprise that real-life doll in your life with a L.O.L Surprise party!
Related: Throw a jungle-themed birthday party
1. Surprise the party girl! I thought 6 was the perfect age to host a surprise party. She and her friends were old enough to understand and get excited about the concept, and everyone was inexperienced enough to really get a kick out of attending their first surprise party. Juliet had no idea she was walking into her own birthday party when we took this pic of her long-awaited entrance.
(We told her there was more to the shop downstairs and that they wanted to show her the latest inventory). We popped out, screaming "Surprise!" with the balloon backdrop showcasing the letters LOL behind us and gave her the surprise of her life!
Another way I included the element of surprise was by preparing a L.O.L pinata filled with, well surprises including L.O.L : candies, gummies, stickers and more! You can find one like it here. It's great because you don't have to bat at it (just take turns pulling strings). You could also create party surprises by unveiling a grand present or person (think L.O.L surprise doll bike or a special out-of-town guest perhaps)?
2. They say if you have good hair, you'll have a good day, right? Well we were bound to have a good day / because our venue was Doodle Doo's! (It's a children's hair salon and gifting store in Manhattan that also has a party space). And we were treated to L.O.L-inspired hairstyles by one of their caring, super sweet stylists! Doodle Doos made all the real-life dolls look and feel fabulous. It was such a treat for these 4-6 year olds to sit on the big chair and get all done up after choosing their favorite L.O.L doll pictured hairstyle. If you don't have the ability to hire a hairstylist or can't style these looks on your own, simply think, bold accessories like supersized bows or L.O.L doll crafted hair accessories as favors that the kids can wear at the party and enjoy afterwards!
We were so fortunate that Susana sent us hand-crafted L.O.L doll bows to match our party décor! They doubled as fashionable favors for each of our guests to continue the L.O.L doll looks at home! Look how pretty they were on our table in lieu of a napkin ring!
3. Staying with the stylin' theme, we also granted each real-life doll a L.O.L doll tattoo and earring sticker of their choice. Each excitedly wore the glittery new additions and chatted endlessly about which ones they picked. It was a super-affordable, but treasured addition to the party theme! You can get similar tattoo sfor 99 cents for 8 here and earrings here.
4. While guests waited for the above experiences, they had their choice of the following activities while bopping to music: Craft a L.O.L doll beaded necklace, color a L.O.L doll (free printable) or scratch off a L.O.L doll glittery design. Thanks Target dollar bin for providing me with all these L.O.L doll themed activities pre-party! Gotta love that dollar bin!!
5. Keep guests Laughing Out Loud by requiring all the minis to come dressed in L.O.L inspired outfits! We loved how the guests got into the theme. Don't you?? So stinkin' cute! It made for fun, Instagram-able photos and great conversation starters among the guests!
6.Lastly, decorate in theme but add a touch of sophistication, which if you can do this, is always surprising at any kids' party). I did this by incorporating real linens and chargers with the paper plates. And I added fun, details like L.O.L doll plastic girls onto the straws and silverware.
Sphere balloons reminiscent of the L.O.L doll ball, in coordinated party colors really made for a fun pop of color (Thank you Jessie for partnering with me on this!)
And thank you Wall Décor Plus More for sending us all the polka dot decals.
You can get the L.O.L surprise doll decals at Target!
7. I don't know about you, but sometimes I find myself at parties anxiously awaiting the sweets. (Anyone else there mostly for the cake?) The sweets are what make the party sometimes, but they can really blow a budget too. Here's how I kept the cost down. I found these marshmallow lollipops in the form of L.O.,L dolls at Target during their Easter sale. Score! Do you have a holiday prior to your event? If so, take advantage of their sales and see what sweets you can score on discount since the shelf life is long for candies and over the counter holiday desserts.
For the cake you can bake something simple using ROUND sprinkles and a L.O.L cake topper (you can find tons on Etsy) or have your local bakery make you one (like I did) and simply add the L.O.L edible images yourself (I bought mine on ebay). These absolutely perfect cookies were sent to us from one of our event sponsors, Creative Susy Boutique. I only had 6 mini-guests and their caregivers so a dozen wouldn't have broken the bank either.
If you liked the party inspiration, make sure to subscribe to my blog, Stylishly Stella, for more! And follow me @stylishlystella on social media where I offer daily, fabulous inspiration for celebrating the everyday in style!
All photos care of Shoott.
MORE BIRTHDAY PARTIES FROM MOMTRENDS
PIN IT!
Be sure to follow our Kids Birthday Party board on Pinterest for more party inspiration.
We were not paid for this post. The writer received samples.