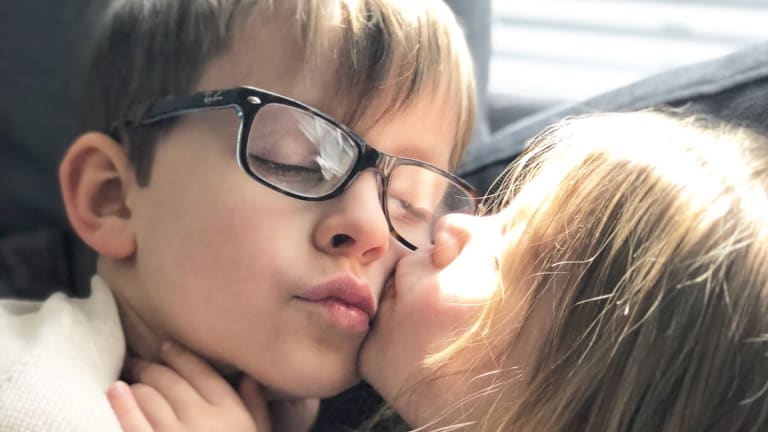 Strengthening the Sibling Bond
Tips From Parenting Expert, Eirene Heidelberger
Happy National Siblings Day! 
Of course every day might as well be National Siblings Day, when your kiddos love hard, fight often, and remain each other's best friends (and frenemies) through spats and quarrels and meltdowns and tantrum and every moment in between. You know what I'm talking about, right? But earning that unique family dynamic doesn't always come easy. There's jealousy, rivalries, and bickering to deal with. We chatted with parenting expert Eirene Heidelberger for her top tips to keep siblings happy and well adjusted--together.
How do you take jealousy out of the equation, when bringing home a new baby?
This is what I say to any family bringing home a brand new baby: within four weeks, you will know how successfully you are loving and parenting your first born. [You are succeeding] if your first born does not have any sibling rivalry. Three months out—before Baby arrives--start speaking to your first born. It doesn't matter even if he's only eighteen months old. They understand language. Say 'We're having a new baby and the baby is never going home—it's ours forever. Then set up scenarios. Say to the First Born, your new baby is coming home and we'll be right here. Take a shower and put the bouncer on the bathroom floor. Put the car seat in early, and as your driving, explain that this is where the baby is going to be. Its these basic principles that help him get into the mode of thinking okay this is what it's going to look like," rather than being surprised. Be proactive so their little brains can grasp the concept. The baby doesn't give his sibling anything in return-- it takes attention or is sleeping or is crying—so it's not really working for the older child. So helping them adapt ahead of time will help.
But as the kids get older, how do you quell sibling rivalry issues?
It comes from the top of the heap from mom and dad. Mom and dad need to be a consensual parenting unit—a team. They're consistent in how they speak to each other as far as tone and the use of words. Kids listen and respect that--so when thing escalate between siblings, [they emulate that]. Maybe all a parent has to do is give the look that means you've crossed a line. The second is say no, no. " Its something so silly, and it can be lighthearted. When used over and over, children register they're getting into dangerous territory with behavior. And then the third one is " you're done. " And then you take them away from each other. And I stand behind this. All these three things only work when mom and dad are at the top of their parenting game.


What is your top tip for strengthening the bond between siblings?
It comes from the top again. We set the example... and helping them support each other. Your job as a parent is to send your kid into other world as a successful individual and having them know it's not just about them… Even with large gaps you have to pull them into each others world.
We're going to complete each other and support and love each other—it's not going to be perfect all the time. But when we are kind and show gentle kindness to each other we want to be friends with each other. 
Eirene Heidelberger is a nationally renowned parenting expert and founder of GIT Mom (Get it Together, Mom!).