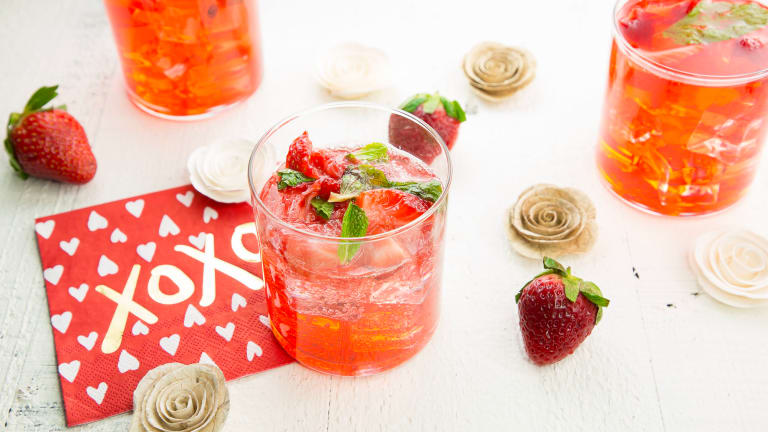 Strawberry Bourbon Smash Cocktail Recipe
This amazing strawberry bourbon smash cocktail has a bright red color and is perfect for Valentine's Day.
Can you believe it will be Valentine's day in a few more days? It seems like this year is progressing at light's speed. Do you have your plans set for this year's Love Day? I'm not sure what my husband has planned. Not that I'm supposed to, of course.
Related: Bourbon slush recipe the perfect summer drink
Strawberry Bourbon Smash Cocktail Recipe
I have planned a delicious meal and a homemade chocolate pudding for dessert. One thing is sure, going out on Valentine's day isn't on the agenda. I prefer a cozy, intimate dinner at home. I am secretly hoping my mom will offer to watch my son! If not, my husband and I will go out on a different day to celebrate when we can secure a babysitter.
In addition to cooking at home, I'll be making this amazing strawberry bourbon smash for our cocktail. Isn't it so pretty? I adore the vibrant colors of this cocktail and it's perfect for Valentine's day. The perfect mix of flavors and we can even sell the cocktail to the men easily by mentioning the bourbon. Sold yet? Ok, I'll keep going!
Not that bourbon isn't amazing on the rocks, but sometimes, ladies we want a little sweetness, right? I know I do, especially on Valentine's day. By adding the muddled strawberries, mint, and simple syrup, you obtain just the right hint of freshness and sweetness so the bourbon isn't too overpowering. The club soda adds that fun fizziness that everyone loves. You really must try this VERY soon!
Strawberry Bourbon Smash Ingredients
Ingredients for two cocktails:
6-8 strawberries
4-6 mint leaves
2 tbsp simple syrup (homemade or store bought
Ice
2 shots of Bourbon
Strawberry Bourbon Smash Cocktail Recipe Directions
Muddle 6-8 strawberries and 4-6 mint leaves and set aside.
Fill the rocks glasses halfway up with ice.
Add 1 shot of bourbon, simple syrup, and half of the muddled ingredients to each glass.
Fill with 4-6 ounces of club soda to the glass and give it a quick stir.
That's it! Easy peasy. Happy Valentine's Day everyone and happy sipping!
MORE COCKTAILS IDEAS FROM MOMTRENDS
Be sure to check out these cocktail ideas:
Mango Bellini cocktail
PIN IT!
Use Pinterest to save your favorite cocktail ideas. Be sure to follow our Drinks board here.
This is not sponsored post.