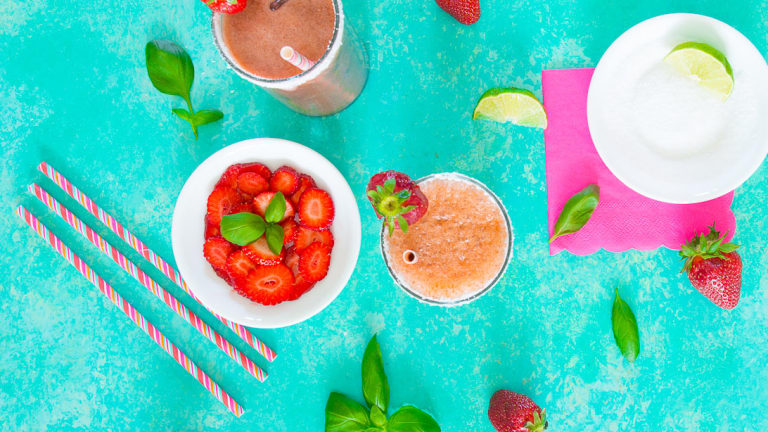 How to Make the Most Delicious Strawberry Basil Margarita
This summery frozen drink involves juicy strawberries and fragrant basil an awesome flavor combo for a sweet and refreshing drink.
Are you savoring every ounce of this summer? To make at-home entertaining or cocktail hour for two more fun, I'm sharing how to make the most delicious strawberry basil margarita. It involves juicy strawberries and fragrant basil: one of my favorite flavor combos for a sweet and refreshing drink (alcoholic or not).
Related: Our favorite sweet strawberry cocktail recipes
Make the Most Delicious Strawberry Basil Margarita
How do you celebrate the long days of summer? With the arrival of local strawberries, I say whipping up this delicious cocktail is the perfect way to slow down time and savor summer.
A Classic Mexican Drink with a Twist
In the recent years, you can find me in my kitchen cooking up a storm. See, Mexican food is one of my favorites. I'm pretty sure I survived off enchiladas when I was pregnant with my son. I would eat chicken enchiladas ever single day. Literally.
My freezer was stocked full of individually sized meals that I'd prep and freeze so I could enjoy my enchiladas fresh from the oven all week long. My husband still isn't a fan of them. Poor guy has already had a lifetime of enchiladas!
Hey, at least I cooked though, right?
To accompany your spread this year, be sure to include these strawberry basil margaritas. They are super easy to whip up leaving you more time to play and entertain. Or relax, whichever you prefer.
Strawberry Basil Margarita Ingredients
10 strawberries
5 basil leaves
1 tablespoon sweetened lime juice
1 shot triple sec
1 shot tequila
3/4 cup water
Strawberry Basil Margarita Recipe
Combine strawberries, basil, water, sweetened lime juice tequila, and triple sec in a high powered blender.
Blend until smooth.
Serve these frozen or on the rocks. If you prefer frozen then add ice to your blender as well.
Serve in a salt-rimmed glass and enjoy!
Happy Sipping!
MORE FUN SIPPING IDEAS FROM MOMTRENDS
PIN IT!
Looking for more ideas on what to drink? Check out the Momtrends' Wine Time on Pinterest!