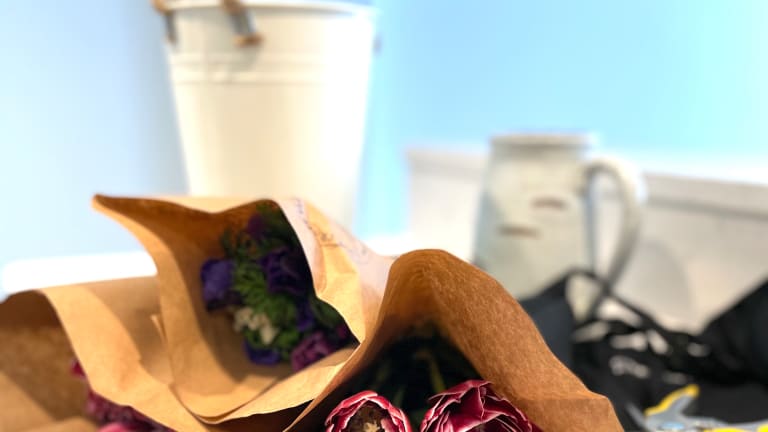 Stop Freaking Out About Your Colonoscopy
It's time to stop freaking out about your colonoscopy and make the appointment, I'll walk you through what really happens.
One of the rights of passage as you age is the addition of health screenings. There's the mammogram, the glaucoma test and the much feared colonoscopy. It's time to stop freaking out about your colonoscopy and make the appointment. It's not as terrible as you think and I'm going to walk you through the procedure.
Related: 8 heart health tips for women
Why do you need a Colonoscopy?
Let's start with the scary statistics:
Colon Cancer is the third most commonly diagnosed cancer in men and women combined in the U.S.
Colon Cancer is the second leading cause of cancer death in men and women combined in the U.S.
In 2021, 149,500 people will be diagnosed with Colorectal Cancer.
In 2021, 52,980 people will die from Colorectal Cancer.
And for my Black mom friends, be aware: African Americans have the highest incidence and mortality rates. 
The point of the test is to detect and perhaps ward off colon cancer. Colon cancer typically affects older adults (though it can happen at any age) and doctors recommend the first screening at 50. 
Colon cancer usually begins as small, noncancerous (benign) clumps of cells called polyps that form on the inside of the colon. Over time some of these polyps can become colon cancers. The colonoscopy is meant to look for polyps and remove them. 
According to the NIH, removing polyps during colonoscopy can not only prevent colorectal cancer, but also reduce deaths from the disease for years.
Stop Freaking Out About Your Colonoscopy
Now that I've convinced you to make your appointment, let's talk about what actually happens. After my annual physical, my doctor referred me to a hospital to get a colonoscopy. This procedure is out-patient (meaning for most people you won't spend more than a few hours at the hospital) and performed by a surgeon. 
After I booked my appointment, I got two pages of instructions. Here's the thing, the prep is the biggest pain. It involves a LOT of laxatives and a day of fasting.
Momtrends tip: Try to get a morning appointment. I found it easy to fast when I was sleeping! 
One Week Before Your Colonoscopy
I'm not going to sugar coat it, there's prep and planning involved in the process. You need to start planning ahead. Here's what to do:
Pay attention to diet: A week before your colonoscopy I was told to stop consuming high fiber foods.
Ask about Medications: I also was told to look into the medications I was taking. Since I don't take any medications, I simply stopped my supplements for the week leading up to the colonoscopy. Important: Ask your doctor about what supplements and medications you can take and when to stop taking them. 
Arrange Transportation: This is also the time to arrange for a friend or family member to get you to and from the appointment. This is key. You won't be able to drive yourself home after the procedure. Since we are all going to need to get these done, it's good to make a buddy system. Mr. Momtrends had his last year so we knew what was coming. I will make this offer now to my girlfriends to drop off or pick up. This is important, it's not an imposition, it's being a good friend! 
Start hoarding laxatives. I'm kidding, kind of. In fact, I needed three different kinds of laxatives as prep. More about this below.
Colonoscopy Prep Shopping List
Clear liquids: I stuck to broth and tea. I read that other clear foods that are ok include applesauce, juices without pulp. 
Magnesium Citrate: This stuff is nasty. I got the "citrus" flavor and it tasted like flat Sprite with extra syrup. In all honesty, drinking this was the worst part of the entire procedure.
Miralax powder: This is relatively harmless. It disappears in your clear drink of choice. My doctor recommended Gatorade, but I hate Gatorade, so I brewed some decaffeinated iced tea and added this in. 
Ducolax: You'll need two of these pills the night before your procedure. 
24 Hours Before Your Colonoscopy
I wouldn't make big plans for this day. I did a cross country ski workout after breakfast and then stayed around the house the rest of the day with a few small errands added in. I wanted to be close to the bathroom as much as possible. It's really important to follow these rules and truly flush out your system to get the most out of the test.
Confirm your appointment and your ride: You don't want to start fasting for nothing.
Eat your last light meal 24 hours before your procedure.
Start the laxative dance. As instructed by your doctor, you're going to consume laxatives and use the bathroom. You are going to use the bathroom a lot. A lot, a lot. 
Stay hydrated. Keep drinking those clear liquids.
Rest up!
What to bring to your Colonoscopy
A snack and water for after the procedure
A book in case of delays
Your health insurance information
A charged phone
Day of Your Colonoscopy
I was told not to drink or eat anything, so I was very happy to have a morning appointment. I arrived at the hospital and after a short wait was brought to the surgery prep area. I changed into a hospital gown and was asked all about my health history and my prep. There's no use doing the procedure if you haven't prepped well. If your colon is full of crap (sorry, facts are facts), the surgeon won't be able to see anything. 
I was hooked up to a machine monitoring my heart rate and oxygen levels and given a IV port. There will be a needle involved to get the IV set up. Be strong.
The IV will deliver the drugs to sedate you during the procedure. At this point, the nurses are doing all the work. I love nurses, and I had some great ones. They answered questions and were kind and funny through the entire process.
Around 9:40am I was good to go. I was all rigged up, and my nurse pushed me in to the procedure room. It looked more like an office than a surgery theater, and that was kind of comforting. 
My doctor walked me through the procedure, telling me that he'd be looking for polyps and outlined on my torso how and where he's be navigating the scope. 
The instrument used during a colonoscopy is known as a colonoscope. This is a long flexible tube that is inserted through the rectum. The colonoscope has a light source and a tiny video camera that allows physicians to view the inside of the colon on a video screen. The physician is also able to take pictures of unusual lesions or record the entire process. 
And then it was time for the drugs. I would say it was around 10am at this point. The next thing I knew, I was waking up in the recovery room, given some liquids and told I was good to go home! I didn't feel a thing. 
While I was napping under anesthesia, my doctor was looking at my colon walls searching for any abnormality. Seriously, it was the fastest easiest, morning. I was in at 8:30 and ready to go home at 11:30. 
I was quite tired after the procedure. I think it was the sedatives. I went home and took a 90 minute nap. The remainder of the day I was a tad lethargic. I definitely couldn't have returned to work if I had an office to go to. My appetite didn't come roaring back. I did eat, but really focused on hydrating and resting. It is worth noting: no booze, wine or beer after your colonoscopy. Give your body a chance to recover. 
Follow Up on Your Colonoscopy
Now it's a full day later and I feel great. I had a normal bowel movement (sorry this post is full of overshares) and my appetite and energy levels are back. I went for a run this morning with my dog and all is right in the universe. 
The hospital called to check on me and I will wait to hear about any irregularities in the one small polyp that was biopsied.  Depending on what they see, I will be told to go back in three, five or ten years (fingers crossed).
Don't forget to treat yourself. Tonight I will sip a nice glass of wine and enjoy the dozen tulips I bought myself. Getting older doesn't have to stink. Make it a point to celebrate each and every day.
I hope sharing this with you truly helps. If one more mama makes an appointment, I will view this as a huge win. 
When to See a Doctor
I do not have a medical degree, I'm going off the wisdom of my doctor and the Mayo Clinic. If you have symptoms like changes in bowel habits, changes in stool consistency, blood in the stool, and abdominal discomfort GO SEE YOUR DOCTOR. Otherwise, when you get your annual health check up, ask your physician about the test. 
Starting early can help. Questionable polyps can be removed and your doctor will have a baseline for any changes. For women, age 72 is the median age for a colorectal cancer diagnosis. 
Get more information from www.ccalliance.org
More Articles About Living Well from Momtrends
PIN IT!
Use Pinterest to save your favorite ideas from Momtrends. Be sure to follow our Fitness and health board here.
Momtrends was not paid for this post.