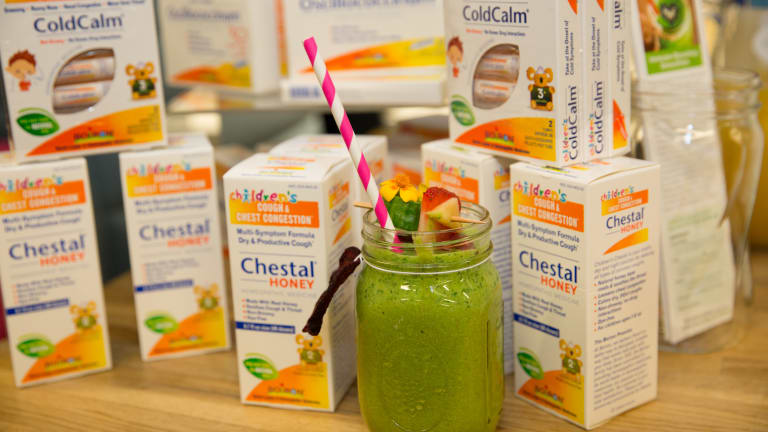 Stock Your Cold & Flu Season Survival Kit
Boiron flu medicines that are right for your family
This month we teamed up with Parents and Parents Latina for a Moms' Night Out event. One of the amazing sponsors we worked with for the event is Boiron. Boiron is a world leader in homeopathic medicines. I've been using the products for years to fight off cold and flu symptoms. Now that the weather is cooler, I wanted to share my wellness tips, including ideas on how to use smoothies to load your family with superfoods.
First, let's talk about prepping your home for what's coming. Yes, we preach hand washing and healthy diets, but, realistically, someone ALWAYS gets sick during the winter in our house. In our family, Boiron is a trusted brand. They have developed over-the-counter family-friendly remedies, and they work without causing drowsiness or drug interactions. I know them for the top-selling flu medicine Oscillococcinum (don't ask me to pronounce it!). At this event, I learned about the Boiron cough and cold relief medicines including Chestal and ColdCalm.
Stock Your Cold & Flu Season Survival Kit 
Cold and flu season is coming. The CDC says, flu activity peaks between December and February. That means we've got about a month to get ready (and get those flu shots). Now is a great time to start some healthy habits and to stock up your home with remedies that work.
It pays to keep a well-stocked medicine kit close at hand during cold and flu season. No one wants to run to the pharmacy when the weather is gross and you've got a sick little person at home. 
The Family Cold & Flu Supplies Checklist
Thermometer: (I like the ones that work in the ear).
Flu relief: Stock up on Oscillococcinum for flu-like symptoms like body aches, headache, fever, chills, and fatigue
Cold relief: ColdCalm Liquid Doses for sneezing, runny nose, and nasal congestion. To use, snap off one single-use dose. Twist to open. Squeeze entire contents into mouth. 
Sore Throat relief: Children's Chestal Honey Syrup for relief of coughs due to minor throat and bronchial irritation.
Tissues: Make sure you stock your house with large boxes for the home and small packets for on the go. 
Hand Wash: Put a soap dispenser by every sink and be sure to carry hand sanitizer.
Being prepared means when sickness happens, you'll be ready and recovery can go a lot faster. 
Five ways to supercharge your smoothie
Of course, the best case scenario is keeping everyone healthy. As part of this event, we set up a Boiron Smoothie Station. The goal was to create the ultimate vitamin-rich smoothie. We created a smoothie bar filled with all the fixings to whip up a healthy and delicious treat. Our blogging friends had a blast at the Boiron Smoothie Station and now it's your turn to shake up your immune system. 
Smoothies are easy to make. For the base, try bananas, yogurt and milk. Then comes the fun part, adding the extras! Traditionally fruits and veggies go inside the smoothies, but why not consider some of these fun extras the next time you whip out your blender.
Chia Seeds: These little wonders are loaded with omega fatty acids that increase healthy brain function, and have also been proven to fight high cholesterol and heart disease. Plus they add protein, fiber, amino acids, vitamins, minerals, iron, calcium and antioxidants to your diet.
Coconut: The antioxidants found in coconut are in the form of raw saturated fats and oils that help boost the immune system. We love sprinkling coconut on top of our smoothie and putting it inside.
Avocado: This fruit contains 20 vitamins, minerals and beneficial plant compounds. Truly a superfood.
Flaxseed: The fiber in flax is especially effective with eliminating toxins from your body and are proven to be a heart-healthy food.
Acai: These berries are loaded with antioxidants that boost your body's energy and reduce inflammation.
Momtrends Tip: Get the kids involved at the end! Have some fresh fruit and things to sprinkle on to make your smoothie bar complete. For more breakfast smoothie ideas, visit this recipe post.
Pin it and make it!
Pin this post to remember the five ways to supercharge your smoothie.
This Stock Your Cold & Flu Season Survival Kit feature is sponsored.