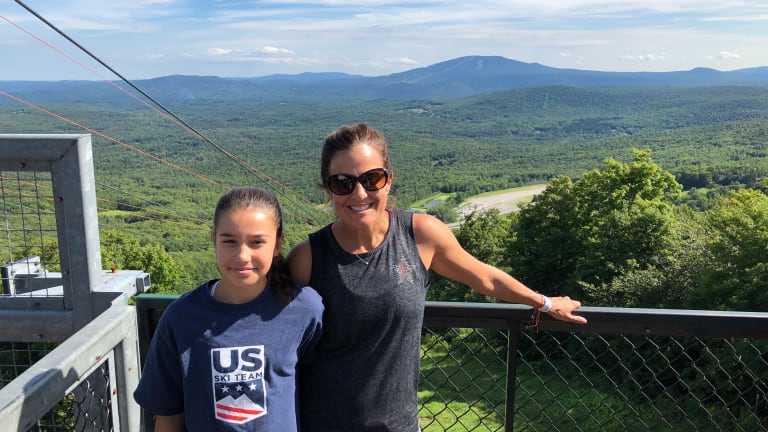 Starting a NY529 College Savings Plan
Mom Advice: Save for School with Confidence
One of my daughters wants to be a fashion designer/actress/ophthalmologist the other wants to be a ski racer/architect. My role as parent is to get them to dream big and to work hard. I don't want them thinking about limitations. I want them to think about OPTIONS. That's why starting a NY529 College Savings Plan was so important to our family. Now that our kids are teenagers, we're all but done saving for college thanks to these plans.
Talking about the NY529 College Savings Plan
I recently joined some friends who have also saved with the NY529 plan to talk about the benefits. Check it out:
What is  NY529 College Savings Plan
I don't want to get ahead of myself though. I want to back up and start from the beginning. Right after they were born, we opened an account for each girl. A 529 college savings plan is a type of investment account you can use for higher-education savings. Your earnings grow federally tax-deferred. And you can start at any age - - but the earlier the better to get those tax-deferred benefits. When you are ready to spend the money on college, withdrawals are tax-free. Plus I get state tax benefits too. As a New York State taxpayer, I also benefit from the state tax deduction.
Why I like the NY529 College Savings Plan 
My husband and I looked into trusts for the girls too. For many of them, the girls had all the power on how to spend the money once it became theirs. The beauty of the 529 is that it can only be spent on education. Plus, the account owner—not the beneficiary—is always in control of the account, even when the beneficiary becomes an adult.
As the account owners, my husband and I pick investments, assign a beneficiary, and determine how the money is used. Each November we add in our yearly contribution to receive the state tax deduction (feel free to invest monthly, this is the system that works for us). And in January, we look over the investments and often shift some things around.
Mr. Momtrends and I both attended private 4-year colleges. We know if our girls want to do the same we will need a big bundle. The 529 account contribution limits are generally high—from $300,000 to $400,000 or more, depending on the state. That should cover just about any four-year college she picks...even Harvard!
Watching the NY529 College Fund Grow 
I know the joy of watching compound interest do it's thing. One of the best decisions I made as a 21 year old was to invest in my 401K and leave the money there to grow. Now my retirement fund is looking mighty flush. The same holds true for our college savings.
Each year we've been contributing to the funds, and we've asked relatives to chip in too. We plead for them to skip the dolls and devices and add to the college fun. I've invited friends and family to contribute to the girls' accounts by sharing a special Ugift code by email (you can also share on twitter). If you want something to wrap to signify the gift, Ugift also provides printable gift coupons that you can distribute in person or by mail. Find out more here: https://www.ugift529.com/home.html
And it's not just parent who can get the ball rolling by starting a 529 account. Grandparents, other relatives, and friends can start one as long as he or she is a U.S. citizen or a resident alien. 
Since we started back in 2005, my 8th grader's account has grown at a nice steady pace thanks to favorable markets . Each year, we've maxed out the contributions and she's amassed a college fund that will be ready for her in 5 years. 
How to use the money in a 529 account
Once you've got a child ready for college you can use the funds to pay for anything that's considered a Qualified -Education Expense at 2- and 4-year colleges, including tuition; books; supplies; equipment; expenses for the purchase of certain computer equipment, software, and computer-related services; and certain room and board fees.
If traditional colleges aren't for your kids, 529 account can also be used to pay for qualified postsecondary trade and vocational schools.
If your kids want MORE school (if you have a budding lawyer or doctor or kid who dreams of a PhD from MIT) good news! Your 529 can be used for postgraduate programs too. And my girls can use the savings in any state. Just because we started the funds in NY doesn't mean we have to use them here. For example, if they wanted to attend Vanderbilt (where I went to school) in Tennessee, that would be fine to use our NY529 savings.
And if my daughter DOES become a professional ski racer there are two pieces of good news. Her 529 funds can be transferred. So our other daughter could use the funds for graduate school or I could use the money to go back and get my MBA. There is no age limit on who can use a 529.
Worst Case Scenario Questions
In a financial emergency, you can get access to the funds. Do so with the knowledge that you'll be paying the federal taxes and a 10% federal penalty tax on the earnings, as well as state and local income taxes. 
Get More Information about NY 529 College Savings Plan
Pin it and Plan it!
Use Pinterest to help manage your money. Save your best ideas for saving.
Disclaimer: Compensation was provided by NY 529 Direct via Momtrends. The opinions expressed herein are those of the author and are not indicative of the opinions of NY 529 Direct or Momtrends.
Investments in the plan are subject to risk. Before you invest, consider whether your or the beneficiary's home state offers any state tax or other benefits that are only available for investments in that state's 529 plan.
The Comptroller of the State of New York and the New York State Higher Education Services Corporation are the Program Administrators and are responsible for implementing and administering the Direct Plan. Ascensus Broker Dealer Services, Inc., serves as Program Manager and, in connection with its affiliates, provides recordkeeping and administrative support services and is responsible for day-to-day operations of the Direct Plan. The Vanguard Group, Inc., serves as the Investment Manager. Vanguard Marketing Corporation markets, distributes, and underwrites the Direct Plan.
No guarantee: None of the State of New York, its agencies, the Federal Deposit Insurance Corporation (FDIC), The Vanguard Group, Inc., Ascensus Broker Dealer Services, Inc., nor any of their applicable affiliates insures accounts or guarantees the principal deposited therein or any investment returns on any account or investment portfolio.
New York's 529 College Savings Program currently includes two separate 529 plans. The Direct Plan is sold directly by the Program. You may also participate in the Advisor Plan, which is sold exclusively through financial advisors and has different investment options and higher fees and expenses as well as financial advisor compensation.
For more information about New York's 529 College Savings Program Direct Plan, obtain a Disclosure Booklet and Tuition Savings Agreement at www.nysaves.org or by calling 1-877-NYSAVES. This includes investment objectives, risks, charges, expenses, and other information. You should read and consider them carefully before investing.