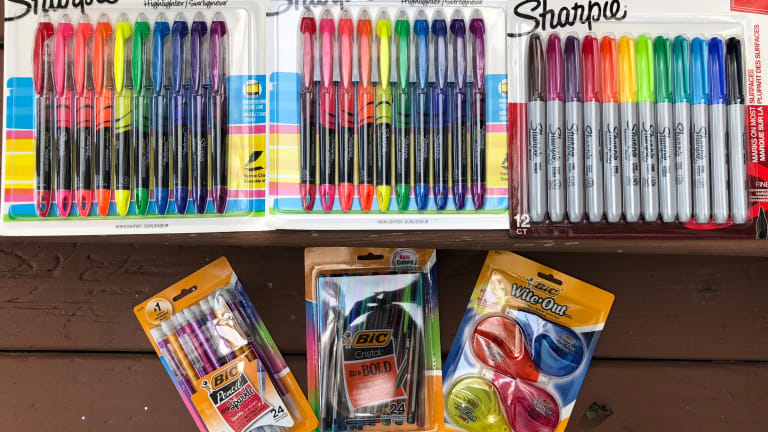 Starting a New School Year with Staples
Heading to Staples is a back-to-school ritual in our family. When the kiddos were small it was a sweet time to pick up fresh crayons and a sparkly backpack. I'm not going to lie, now that I have middle schoolers, the stakes are a bit higher. It's not just about cute gear (like locker accessories), it's about having the right supplies to make studying more efficient. Starting a new school year with Staples helps everyone in the family feel great about the first day.
7th grade was a big shift in expectation. The workload became heavier and tests began to count for a larger portion of the overall grade. Prepping wasn't as easy as getting the proverbial good night's sleep and a healthy breakfast. French II involved memorizing loads of vocabulary and Pre-Algebra had some mighty lengthy problem sets (don't forget to show all your work!)
This year we are staring down 8th grade and we headed right to Staples to get ready. My daughter is 13 and starting a brand new school. We're both excited and a little nervous. I know I can't smooth over everything for her, but I can send her off to her first day with the right gear in her bag. Because we all know Staples is THE back-to-school specialty store.
My daughter is deeply invested in note taking. It really helps her digest material. She finds color-coding her notes helps. This past year we saw her grades steadily rise. She had more and more confidence that she knew how to organize the material she was learning. Her system involved a LOT of index cards and color. The proof was in in the pudding. Her English grade went from a B to an A- thanks to her hard work and organization.
This year when she requested the super pack of highlighters and Sharpies I said "definitely!" I want to arm her with all the tools she needs to succeed. I'm so proud of how she's taking control of her learning experience. If a new pencil case will get her there I won't complain! This is the BEST assortment of our favorite brands like Sharpie, Bic, Post it, Staples and more at affordable price points.
Big Box stores like Target and Walmart only get into the back-to-school business a few weeks a year, I know when I go to Staples, they are in the business of stocking supplies all year long. They don't run out of our favorite brands.
We found some great help from the in-store specialists. This year math is getting more sophisticated, my daughter needed a scientific calculator. The team at Staples walked us through the options and helped us make a decision. This Casio was a great price too! At other stores, we may have only had one option, at Staples, the selection was vast.
Not only do I feel good about getting my daughter to a good start, I am helping other kids as well. I made a donation to DonorsChoose.org classroom project online to make sure every kid gets the tools he or she needs to learn.
Tips for Back to School Shopping with your Teen
1. Print the list. Middle school and high school supplies are VERY specific. For instance, her math class requires a scientific grid notebook. Make sure you print the list and take it with you or have a screen shot on your phone
2. Set a budget. It's my job to teach my girls about financial responsibility. I estimate how much the supplies will cost and give my girls a target number.
3. Bonus time. If they came in under budget (which is pretty easy at Staples) they got to keep half the savings.
4. Give them freedom. When there are choices to make on color and style always defer to the kids. In fact, 90% of parents in the United States allow their children to get involved in the aisles when back-to-school shopping according to a recent survey conducted by Staples and Fatherly.
5. Make a date. We've turned back-to-school shopping at Staples into an event. After shopping, it's my treat at Starbucks for pumpkin loaf and iced tea.
6. Label it. As soon as you get home label all that new gear.
Head to your local Staples store or shop online here.
Pin it and Plan it
Use Pinterest to map out your shopping adventures and save your favorite mom advice.
This Starting a New School Year with Staples feature is sponsored.