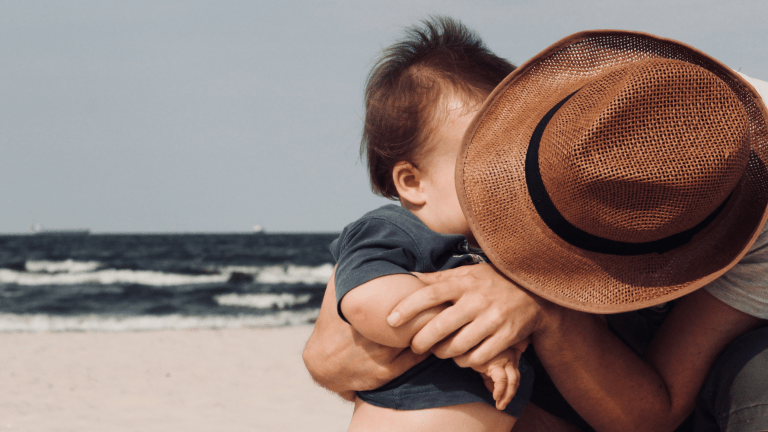 It's easy to take a hug for granted. As a mom, I probably dish out 10 to 20 hugs a day. And I try to be present for all of them; but, sometimes I'm in a rush or in a mood or in a _. But I know that an intentional, meaningful hug really does do the body (and mind! and soul!) good. 
After all, numerous studies show that hugs boost immune system responses, help fight disease and make us healthier. Hugs increase serotonin, which is the body's natural antidepressant and helps us sleep. They have shown to reduce stress and anxiety, and promote relaxation.
Jan. 21st is National Hug Day and you should "squeeze the day." Take a break through a meaningful hug with your loved ones, and make that feeling last for even longer by following these simple mantras.

Five Tips for the Perfect Pumpkin Patch Visit
It's that time of the year again...pumpkin patch time! While I love a nice Pumpkin Spice Latte as much as the next fall lovin' girl...for me, the season is all about spending time with my family...and hopefully that time is spent outside as much as possible. If you're headed out ...read more
Perfect for Fall Pumpkin Spice Dirt Bomb Recipe
Get your pumpkin spice fix with this tasty dirt bomb recipe. Unlike fried donuts, this recipe is a little lighter and, since no hot oil is involved, a lot less messy. These dirt bombs, or baked donuts, are irresistible cakey muffins that are spiked with nutmeg and ginger, and ...read more
Save Money at a Ski Swap
Are the slopes in your future? If you want to save money on ski gear, consider a ski swap. A swap is a great way to buy and sell used equipment. Most swaps consist of a variety of gear, from brand new to used skis and snowboards to skis; from poles to boots to bindings and ...read more
Keep it Real. Too often, hugs are superficial, just something we do out of habit. This year, focus on the hug and do it with purpose, as an expression of friendship. Squeeze hard, but not too hard.

Take a breath. Once you are in the hug, pause for a moment and breathe. Just one breath. This is where you have the chance to squeeze a little longer. Go ahead and be a little vulnerable. In the moment, remember who you are hugging and why you are hugging them. This is a moment of where the healing power of the hug truly shines through. We all want to be loved, and a hug or squeeze is a true sign of affection and trust.

Let it Go. Be willing to be the first to let go, be sensitive to the movements of the person you are hugging, and let go. Leave the embrace with a smile on your face, even in the hardest moments of life, moments when a hug means more as a sign of connection. Always let the person you are letting go of know you are happy.
Check out this National Hug Day video from TreeTop. 
This is not a sponsored post.
Tips courtesy of TreeTop