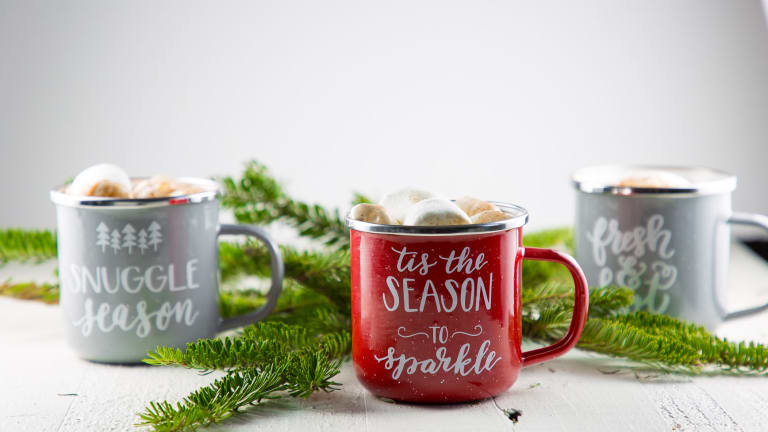 Publish date:
Spiked Dark Hot Chocolate
Make this deliciously decadent liquid dark chocolate with a touch of little spice for the holidays.
Make this deliciously decadent liquid dark chocolate with a touch of little spice for the holidays.
Oh wow, another spiked hot chocolate recipe, right? Wrong. This hot chocolate is like nothing else I've come across online. It is, however, based on a delicious beverage from the French Broad Chocolate Factory in Asheville, NC. Prior to having my son, my husband and I lived in Asheville and frequented the French Broad Chocolate Factory. The decadent treats are amazing! As is their liquid chocolate. If the name alone doesn't scream decadence I don't know what does. This beverage was such a treat I thought I'd make a cocktail out of it!   
Related: White hot chocolate peppermint cocktail
I start with milk and use dark chocolate morsels, vanilla, Saigon cinnamon, cloves, and nutmeg to flavor this spiked dark hot chocolate cocktail. Heat the concoction on medium-low and stir frequently. You don't want to scald the milk or burn the chocolate that rests on the bottom until it melts. If you don't have time to babysit the beverage, pop it all in the crockpot on low for an hour or so.  Simple, huh?  What this will make is a deliciously decadent liquid dark chocolate with a little spice.
Spiked Dark Hot Chocolate
I do recommend if your kids are home to take out a bit now and share with the kids. Trust me, the tears that will result from your child watching you drink hot chocolate while they have none will not make you feel very good. First go round, I had to make a second virgin batch of hot chocolate. Save yourself the extra steps. Set some aside for the kiddos now.  
On to the spiked aspect of this dark hot chocolate. This is a cocktail post after all, right? I chose The Kraken black spiced rum because of its rich molasses flavor. I would not substitute a regular spiced rum. The flavors will not meld nearly as well. If you are adding them to the full pot, add three shots. If you are serving more to the kiddos you can add a shot to each mug.  

The Ten Best Wooden Play Kitchens For Kids
Cooking is a timeless fascination for children. This type of play goes beyond gender and teaches kids loads of life skills along the way. An investment in a play kitchen is money well spent, as it can provide hours of entertainment. We've rounded up the ten best wooden play ...read more
New Victory Announces a New Season of Shows
We know you're busy planning picnics and summer outings, but we wanted to let you know that The New Victory just announced their new season and it looks fantastic. We thought you'd like a sneak peek of what's in store! Each year the New Vic theater brings culture to tourists and ...read more
Fun Ways to Discover Venice Italy with Your Family
Greetings from Italy wear the gelato is rich, the clothes divine and the scenery is inspiring. Now that I've been to this fine city in the north of Italy, twice, I've amassed a list of favorites to share. These are some fun ways to discover Venice, Italy with your family. ...read more
Spiked Dark Hot Chocolate Ingredients:
4 cups milk
2 tsp vanilla
2 cups dark chocolate morsels
1/2 tsp saigon cinnamon
1/2 tsp nutmeg
1/4 tsp cloves
3 shots of spiced black rum
Spiked Dark Hot Chocolate Directions
Heat all ingredients over medium-low heat stirring frequently.  
Add rum and serve.
Happy Sipping!
Be sure to check out these other delicious winter cocktails:
PIN IT!
Use Pinterest to save your favorite ideas from Momtrends. Be sure to follow our Holiday fun parties recipes and crafts board here.
This is not a sponsored post.