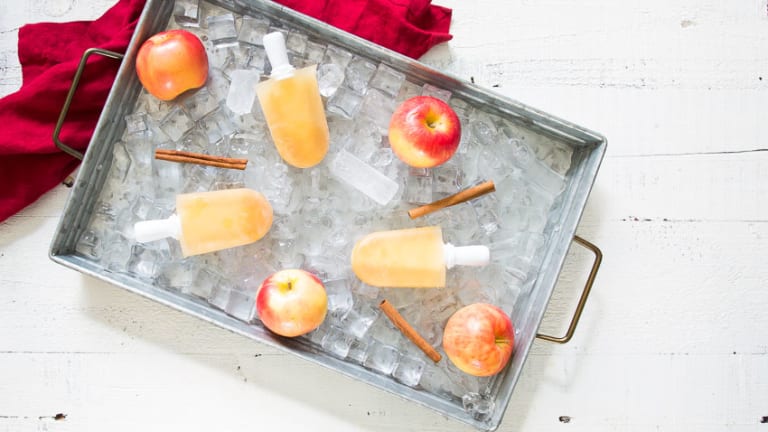 Spiked Apple Cider Pops
This refreshing spiked apple cider pop recipe is the perfect thing for climates where fall can be sunny and warm.
September in the South is, in my opinion, still summer.  The eighties and nineties always prevail and make the traditional fall flavors that I crave so much slightly out of reach. As much as I want to relax and sip on some hot cider, at the moment, I still need something iced. That's where this refreshing spiked apple cider pops comes in handy!
Related: Boozy salted caramel apple cocktail
This is precisely why these spiked cider pops are perfect for fall.  All the delicious fall flavors packaged up into a cool and refreshing treat.
Not convinced yet? The icing on the cake is that in my popsicle maker they only take about seven minutes to freeze! I love my Zoku Triple Pop Maker. My son and I make pops all the time over the summer.
Don't fret if you don't have the Triple Pop Maker. It's not a big deal. You can use any popsicle mold and freeze them the traditional way. I remember as a kid we even made homemade pops with ice cube trays and toothpicks.  How times have changed.  There is a gadget for everything these days.
To "harden" this cider I mix in Barcardi Black and cinnamon schnapps. Goldschlager is one of my favorite fall alcohols. Cinnamon schnapps is so good mixed into all the fall flavors it's a natural go-to for me. I've even been known to add it to my coffee. In the afternoon, of course. Day drinking is reserved for the beach these days.  
You do not need much to make these pops. Each pop uses about 1/2 an ounce so the measurements will be low. Remember, liquids expand as they freeze too. Be sure to leave expansion space in your popsicle mold.
Ready to get started?
Spiked Apple Cider Pop Ingredients
makes 6 pops
2 ounces Apple Cider 
3/4 ounce Cinnamon Schnapps
1/2 Black Rum
Spiked Apple Cider Pop Directions
Combine all ingredients and mix well.  
Pour mixture into your popsicle mold and allow to freeze.  
Remove from mold and enjoy immediately.  
Happy Sipping!
MORE FALL RECIPES FROM MOMTRENDS
PIN IT!
Use Pinterest to save your favorite recipes ideas. Be sure to follow our Apples board here.