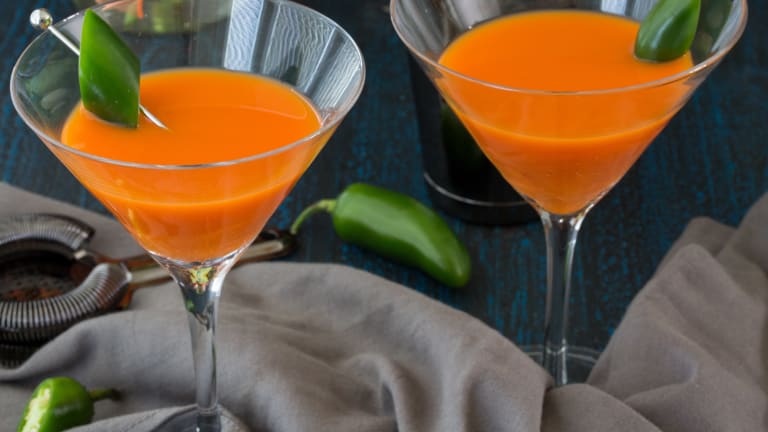 Spicy Carrot Martini
Fall brings the most vibrant and beautiful colors, doesn't it? The bright red, orange, and yellow leaves fill my soul with joy. I smile the whole Fall season. This Spicy Carrot Martini is inspired by the gorgeous hues of Fall, and I know you will love it as much as I do!
Carrot juice is the base of this martini. You can use fresh carrot juice if you would like. I went through a juicing phase a few years ago and my husband and I would buy the 20-pound bags of juicing carrots. Pure craziness, right? I juiced the carrots with apple and ginger, and the result was so delicious. Since then, my Hurom (juicer) has died, and I haven't replaced it, so I used a bottle version for this recipe.
The funny thing is that my whole family is looney over orange veggies. My son actually had a slightly orange tint (not jaundice) because he favored butternut squash, carrots, and pumpkin as a baby/toddler. Our pediatrician found it hilarious and laughed for quite a while. As a first time mom, I didn't think it was very humorous. I thought something was wrong with Logan. 
After the doctor visit, I had to put my foot down and force other color oriented veggies. His snack of choice now is still carrot sticks. I guess you like what you like.
I found the Three Chile Simple Syrup at Total Wine, and it has quickly become a favorite of mine. It is undoubtedly perfect for Fall cocktails.
Ingredients- makes two martini's
6 ounces carrot juice
2 ounces of vodka
6 dashes of bitters
2 teaspoons three chile simple syrup
Ice
Directions
In a shaker, combine all ingredients and shake well. Pour into your favorite martini glass and serve immediately. Garnish with a jalapeno or ginger slice. Enjoy!
Love this Martini? Pin it now! Also, be sure to check out these other Fall cocktails: Thai Inspired Bloody Mary, Spiked Apple Cider Pops, and Boozy Mocha Frappe