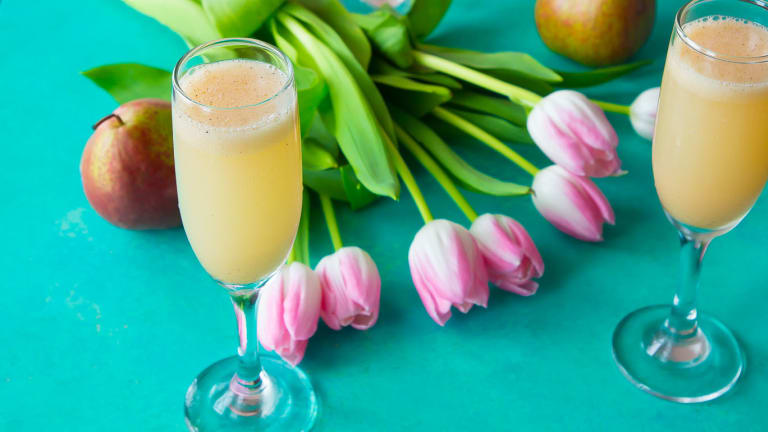 Spiced Pear Wine Spritzer
Since Spring is officially here and Easter weekend is upon us I thought I'd share a lovely light and crisp spiced pear spritzer cocktail today.
Wine and I have a tumultuous past.  We didn't like each other initially.  My first experiences included an Arbor Mist type fruity wine and sprite.  The birth of my first wine spritzer.  Not very refined for sure.  
It was, however, a fun and simple version for lazy days by the pool.
These days I am quite fond of wine.  Argentinian Malbec's top my list of favorites.  Every day isn't meant for heavy or bold reds though.  German Rieslings are quite delicious as well.  For this cocktail, we will be using a Pinot Grigio. 
 Light and crisp, it pairs perfectly with the spiced pear puree.
Any Pinot Grigio will do.  Pick your favorite and place it in the refrigerator.  Spritzers are best served very cold.  You will also need to refrigerate your club soda.  
Any carbonated seltzer water will work in lieu of the club soda too.  Your preference. 
To make the spiced pear puree, peel and slice a pear.  Being careful to avoid the core and seeds.
Add the fresh pear chunks and a smidgeon of water (if needed) to a high powered blender.  My Vitamix needs the water to work with, my smaller ninja does not.  If you can avoid the water do so since it will dilute the flavor a bit.
To the fresh pear, add a dash of cinnamon, a dash of nutmeg, and 1 teaspoon of honey.  If you are a big fan of the spices feel free to add more. A dash will provide plenty of flavors.
Liquidfy the pear as much as possible and then add 1 part pear puree, 1 part pinot grigio, and 1 part club soda to each glass.  Give the cocktail a quick stir.
Ingredients for 6 flutes
1 fresh pear
1 teaspoon honey
A dash of cinnamon
A dash of nutmeg
Club soda- very cold
Pinot Grigio- very cold
Instructions
Puree pear, honey, cinnamon, nutmeg, and water (optional) in a high powered blender.
To each glass add 1 part pear puree, 1 part club soda, and 1 part pinot grigio. 
Give the glass a quick stir and serve immediately.
Happy Sipping!
Be sure to check out these other spring cocktails too!  Mango Bellini and CIlantro Lime Cooler