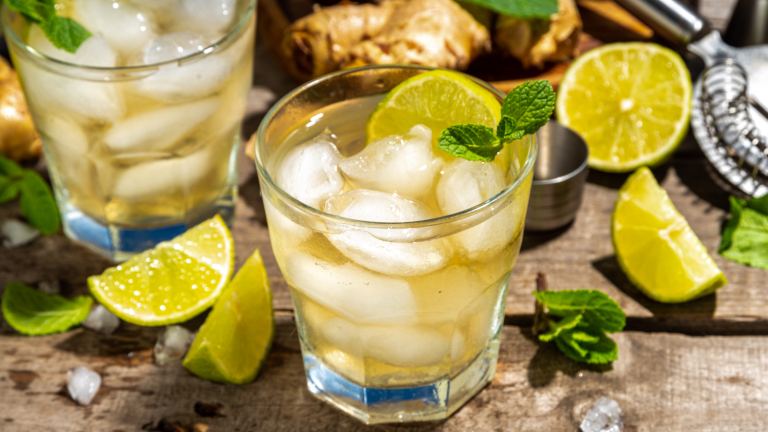 Sparkling Ginger Limeade Mocktail
A summer alcohol-free drink that is recipe is full of flavor
I'm sharing this Ginger Lemonade recipe for anyone who wants to sip a booze-free drink. There's no need for moms who are skipping out on alcohol need to miss out on a tasty summer cocktail. Here's an easy recipe for sparkling ginger limeade mocktail that'll hit the spot on hot days.
Related: Baby shower mocktail
Whether your expecting or simply opting out of alcohol, this is recipe is full of flavor and doesn't feel like a compromise. It's flavorful, fun and festive.  
Sparkling Ginger Limeade
(serves 4)
4 Cups Sparkling Water
1/2 Cup Freshly Squeezed Lime Juice (about 5-6 limes)
1/2 Cup Superfine Sugar
1/2 Teaspoon Fresh Ginger, finely grated/minced (or jarred minced ginger if you don't have fresh)
* Spike It: Use this recipe as the base for a cocktail by replacing the sparkling water with eight ounces of gin (makes 4 drinks). For an added touch, run a lime wedge around the rim of your glass and dip it in sugar.
Sparkling Ginger Limeade Directions
In a pitcher, whisk together all the ingredients until the sugar dissolves.
Add lime slices for garnish.
Serve over ice.
Recipe hack: * Ginger keeps for a long time in the freezer. Peel whatever fresh ginger is left and then freeze in a freezer bag or container. It's also very easy to grate when it's frozen.
Mixology Tips from Momtrends
To get the most out of citrus, you'll want a juicer. It'll get all the liquid and none of the pits. Get it on Amazon here (note: this is an Amazon Affiliate link).
For mixing, I like this 10-piece mixology kit. Get it on Amazon here. (note: this is an Amazon Affiliate link).
No need to miss out on a fancy cocktail--the only thing not included is alcohol. How fresh is that!
WANT MORE FROM MOMTRENDS?
PIN IT!

Use Pinterest to save your favorite cocktail ideas. Be sure to follow our Drinks board here.
Momtrends was not paid for this post.