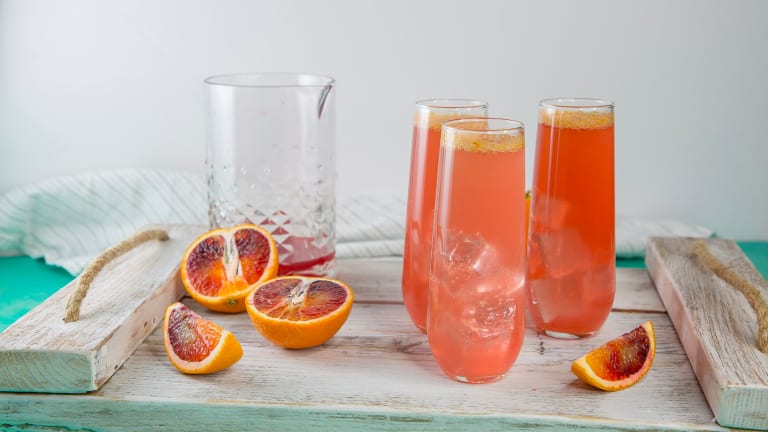 Sparkling Blood Orange Screwdriver Cocktail
  Ladies, I'm not sure about your neck of the woods, but where I am, spring has sprung. I'm not talking about slipping in quietly either.
It is a whopping 80 degrees and beautiful.  The sun is shining, birds are singing, and flowers are blooming.  
That groundhog had it dead wrong this time.  
So, what does spring mean to me?  Other than allergy season...
BRUNCH.
That's right, gathering with friends and family outside on the deck for that perfect mid-morning meal.
And what does every successful brunch have in common?
COCKTAILS.
This sparkling blood orange screwdriver recipe takes the boring old hum drum OJ and vodka up a few notches.
The fizz adds such fun and pizazz to the drink.  The colors too, gorgeous!
The flavor though, that's where this cocktail shines.  
So vibrant and refreshing, it really is the perfect springtime brunch cocktail.  
Blood Oranges are actually not a springtime fruit, but hey, mother nature is in a weird limbo and winter fruit is still what is readily available. 
If you cannot find blood oranges, naval or even mandarin oranges can be substituted.
If your kid is anything like mine, you better not run out of those cutie bagged oranges.  The commercials have my son pegged for sure.  They work perfectly in this cocktail too, if you can get the kids to share.
To make this fun fizzy beverage simply use equal parts of freshly squeezed orange juice with seltzer water (or club soda) and add 1 shot of your favorite vodka.  Mix well (in a shaker preferably) and serve over ice for a tantalizing chilled cocktail.
Ingredients for 4 cocktails
6-8 Blood Oranges, juiced
6 ounces of your favorite vodka
Ice
Seltzer water (or club soda)
To make this cocktail
Combine the fresh juice with the vodka in your shaker.  Shake well and pour into your serving glass filled with ice.  Add an equal part of seltzer water as you did orange juice. Give the glass a quick stir and serve.
Happy Sipping!