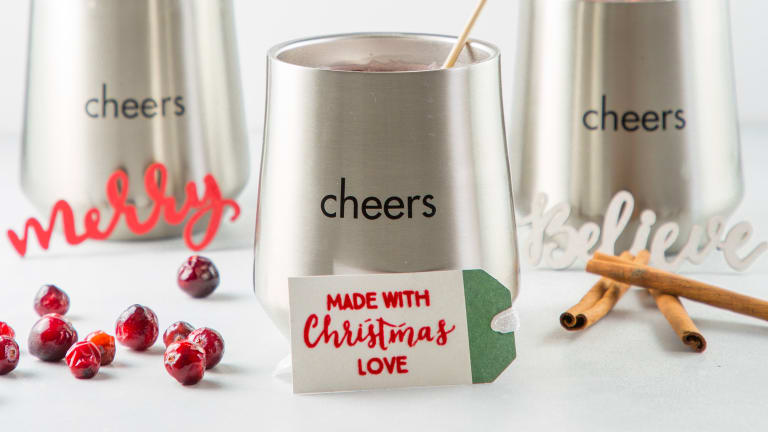 Sparkling Apple Cranberry Cocktail
We made it to another weekend everyone!  Anyone else live for the weekend like I do?  I'm pretty sure that it's universal.  The weekend is our family time, our me time, and our time to renew.  The older I get the more I appreciate the weekends.  So, today do what you want to do.  Spend time with your kids, go for a walk, or hit that yoga class.  Invest in yourself!  And when you are done, go home get into your most comfortable clothes and make yourself a cocktail!  You have worked hard all week and it's time to relax.
This week's cocktail is soooo good!  The fireball will warm you up with its cinnamony goodness and the Grand Marnier will add a touch of sweetness to balance out the tartness of the cranberry juice.  For some fun (and bubbles) I added apple cranberry sparkling cider to the mix and boy did that bring this cocktail home.  Cinnamony sweet, tart, and bubbly.  You really can't go wrong!  
In case you haven't noticed, I'm on a cranberry kick.  I feel like they are so festive and for some reason or another, I ignore the fruit for the rest of the year.  I'll have to work on that!  This Sunday is my holiday baking party and I'm so excited to be serving this delicious cocktail!  All my friends and their families are coming over to bake and decorate cookies.  This is a tradition my friends and I started long before we had little ones to help us decorate and now we are so thrilled to continue the tradition and share it with our families.  
To make this Sparkling Apple Cranberry Cocktail simply mix the following:
1 oz. Fireball Whiskey
1 oz. Grand  Marnier
3 oz. Cranberry Juice
7 oz Sparkling Apple Cranberry Cider
Happy Sipping!