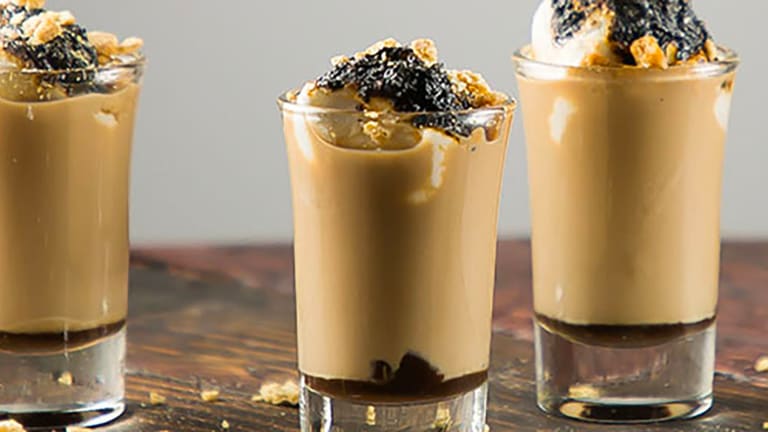 I know last week I gushed about how much I love fall.  Well, let's drive that one home one more time: I adore autumn!  Everything about it is simply lovely.  The hoodies, bonfires, and, of course, s'mores. Who doesn't love the childhood campfire treat?  Take a trip back to your own childhood with this delicious s'mores shooter.
Now, the next time your kids want to roast marshmallows you can say yes with enthusiasm. This really is the perfect shooter. We all want to do fun things together to create more family memories.  Not only does roasting marshmallows create lots of warm and inviting memories for the family, it can provide the perfect topper for your new favorite shooter. Nice perk, huh?
The Nostalgia of S'Mores
My mom's birthday was this past week and to celebrate I made these shooters for her. She absolutely loves chocolate and s'mores top her list for fall treats.  No brainer right? Gotta take care of mom. I don't think I ever fully appreciated just how much she did for my brother and I until I had my son. Momming is not for the faint of heart! I try my best to show my appreciation now. I know there were probably some moments in my teenage years I didn't do so great at showing appreciation.  
To make these s'mores shooters I used dessert glasses. Mainly because no matter how hard I tried I couldn't find my shooter glasses.  Totally skipped spring cleaning this year, oops!  Either will work fine, really. The wider top of the dessert glass ended up being a perk because I could use bigger marshmallows ;)  
S'mores Shooters Ingredients
1 oz Godiva Chocolate Liqueur
1 tsp Hershey's syrup
1/2 oz Marshmallow Vodka
1 Fire Roasted Marshmallow
Graham cracker crumbles for topping
S'mores Shooters Directions
Warm the chocolate syrup in the microwave for about 8-10 seconds. Add the chocolate syrup to the glass followed by the vodka and the chocolate liqueur. Roast a marshmallow in the fire and place it on the top of the glass. Top with graham cracker crumbles. That's all! Simple and delicious! 
Happy Sipping!!
More Fun Cocktail Ideas from Momtreds
Pin it!
Be sure to follow our Drinks board on Pinterest.