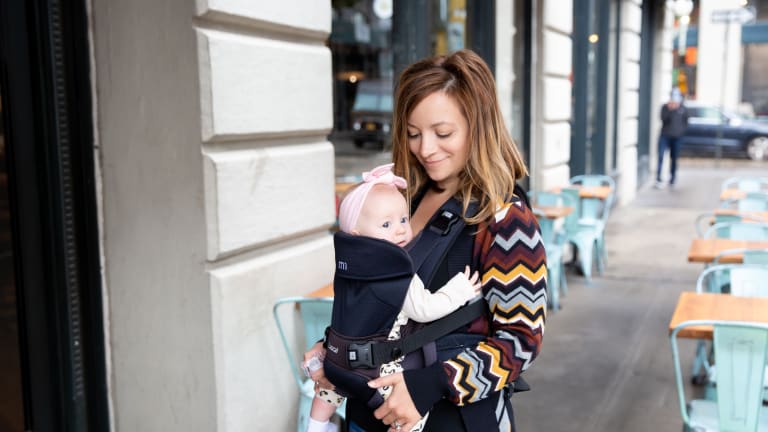 Slowing Down to Enjoy the Little Moments With My Baby
The Nomi Highchair and Lascal m1 Carrier Help Me Carve Out Time to Bond
It's amazing how quickly a baby develops a personality of his or her own. For the first few weeks, you have this immobile blob; but, before you know it, there's this smiling, giggling, babbling tiny person rolling over and getting into mischief. It all happens so fast. You know that phrase, "the years go fast but the days go slow?" Don't believe that. The truth is—it all goes fast. 
Maybe I'm feeling the bittersweet pinch of time that often accompanies motherhood. Or perhaps it just seems like a blur since given that this is my third baby. I have so much going on with the bigger two that the hours fly right by me. Every day is a hustle and a race to bedtime. Between school drop off and pick up and activities and play dates and work, I barely have a chance to breathe, let alone slow down and enjoy the little moments with my little people. That's why dinner is the most important part of our daily routine. It's the one time we all take a break to be together—a veritable pause button in our perpetual state of fast-forward. 
NOMI HELPS US HAVE DINNER AS A FAMILY
We got into the habit of having family dinner every night when I was pregnant with Number 3--and I was worried that this ritual would become all but impossible with our impending arrival. The fact is: a new baby can turn things upside down, but I was determined to keep our dinners a regular occurrence. In fact, I wanted Baby to be a part of our evening scene right away. 
That's why I'm so in love with Nomi. It gives Baby a seat at the table from Day 1. Unlike traditional high chairs that cannot be used until your baby can sit up on her own, Nomi allows you to bring a newborn up to the table with the addition of the Nomi Baby raised bouncer attachment. It keeps Baby at your level while you're sitting down to dinner—so you can make eye contact or pop a pacifier or give a sweet peck while enjoying food, family, and conversation. No more putting a traditional bouncer up on the counter which can be unsafe!
Once your infant is ready to explore solids—whether purees or though baby led weaning, the Nomi becomes a high chair. Once again, you can slide it right up to the table or attach a tray.
As a busy mama, I also love that the Nomi High Chair is easy to clean; its Scandinavian design is sleek and lightweight and it doesn't take up a lot of room. But, best of all, I appreciate that it grows and evolves with a child. The seat and footrest seamlessly adjust without the need for tools so they always have a comfortable place to rest their feet as they grow. Can you imagine how uncomfortable that would be to not have somewhere to put your feet, or for your feet not to touch the ground and just dangle?
Once your little is ready to give up the high chair, it becomes a comfortable and ergonomic chair that they can use through toddlerhood so there's no need to purchase an additional booster seat. Once they can comfortably fit in an adult sized chair at the table, you can move it to their room for a desk chair for homework, coloring, games, etc. as it holds over 300 lbs.!
The Nomi is so many things in one—and as a busy multi-tasker myself, this is something I truly value. 
SLOW DOWN THE PACE AND GO FOR A STROLL WITH THE m1 CARRIER
Like I've said, it's not easy to slow down. We're a go-go-go kind of family, but I do try to make the most of the limited down time we have. Yes, we have dinner together; but another beloved daily moment occurs on our morning walk to school. After yelling at my 7 year old and 4 year old to "get up, get ready, and get out;" after wrestling them into their clothes; after shoveling cereal in their mouths, we head out of the door and collectively breathe a sigh of relief. It's difficult (and entails a fair share of hustling), but I try to make sure we leave a few extra minutes to leisurely stroll to drop off.
The kids talk about what they're learning, and we all take in the crisp fresh air. It's a great way to decompress from the early-morning race and recharge for the productive school and work day ahead of us. We love it, but I'm pretty sure no one enjoys it more than Baby Girl. I put her in her Lascal m1 Carrier, and she is delighted to be a part of our routine. At seven months old, she likes to face out and see the sights and eyeball all the kiddos en route. She is comfortable and close to her Mama, and she is so excited to wave (a new party trick!) her siblings off as they head into the school building. 
Of course, when she was first born, I wore her facing in, and she'd contentedly nuzzle in and nap during our strolls. The m1 Carrier is, in fact, the only carrier you will ever need. It can be worn on the front, facing in or facing out and also worn on the back. A zip-in infant M-Seat enables babies weighing 8-12 lbs. to always sit in the most ergonomic hip-friendly "M-Position" with knees higher than the hip. But then once you take that out, the patented Hip-Zip system offers perfect ergonomic leg support under a little one's thighs--even in the forward facing position for maximum comfort. The soft padding and thigh support means no more uncomfortable dangling legs. The m1 Carrier is acknowledged by the International Hip Dysplasia Institute for giving correct support to Baby's legs, hips and spine.
And fortunately for Mama, Baby isn't the only one who is comfy. With adjustable lumbar support and a wide-padded waist belt and shoulder straps, the m1 is easy on the back, shoulders and neck. Plus, the super-soft and breathable fabric keeps us both cool, regardless of the weather.
It also has great extra features like Strap-Tidies to keep all loose straps neatly folded for a clean and nice look and unique buckles that allow you to keep one hand on baby at all times while fastening and unfastening. 
Breaking bread with my family and walking with my babies… I cherish these daily occurrences—and I appreciate the products that facilitate these precious moments. 
Check out our big #MTBabyShower event and giveaway and enter to win a whole collection of new-mom must-haves HERE.
This is a sponsored post.