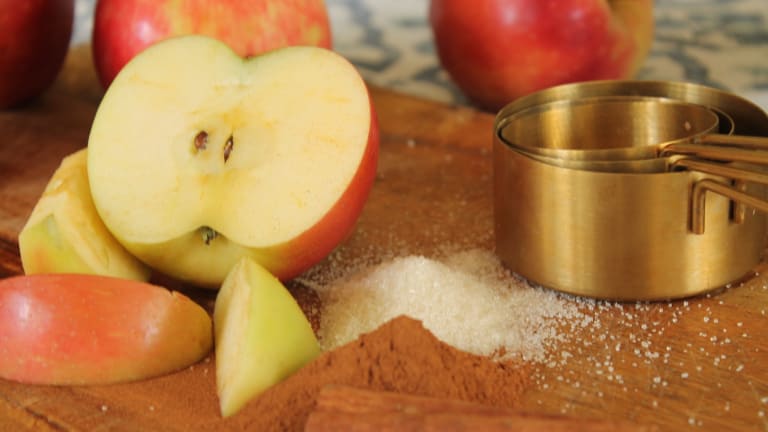 Slow Cooker Apple Recipes
How to use that bushel and a peck of apples from picking season, so we brought you our favorite slow cooker apple recipes.
Autumn has always been my favorite season for so many reasons. Something about the trees letting go of their leaves and giving themselves a time for peace and quiet resonates with me. It's time to remind ourselves to cozy up, drop our pace a bit and take things a bit more slowly, especially in the kitchen. It's time for our favorite slow cooker apple recipes.
Related: Apple picking season
I don't know about you, but as soon as the flip flops are away, my slow cooker is on heavy rotation.  I know everyone is fawning all over pumpkin...everything, but I am reveling in the bevy of slow cooker apple recipes. If you want a long lasting "I just was burning my favorite candle" aroma, you must try our slow-cooker baked apple crisp. The aroma seems to seep into every nook and cranny. 
There's a lot of life left in the apple picking season (freshly picked apples are to.die.for.) so we brought you our favorite slow cooker apple recipes.
First off you have to try this fool-proof chunky applesauce recipe. I adapted it from a Cooking Light recipe book a few years back. 
Slow Cooker Chunky Applesauce Ingredients:
4 lbs Golden Delicious apples, peeled and cut into 1/2-inch slices
2 Lbs McIntosh apples, (skins on) cut into 1/2-inch pieces
1/2 cup water
1/8 cup sugar
6 Cinnamon sticks
2 tablespoons fresh lemon juice1 teaspoon nutmeg 
Slow Cooker Chunky Applesauce Directions
Coat your slow cooker with a light spray (if it's non-stick like our Gourmia 11-in-1 Sous Vides & Multi-Cooker then no need). 
Combine all the ingredients and cover and cook on LOW for 6 hours. Stir to mash apples to desired consistency. (When I want to batch this and freeze it, I make the chunks smaller.) Sprinkle with this homemade topping for added wow. 
Delicious warm or cold. It pairs extremely well with oatmeal for a fuel packed breakfast. 
More Apple Recipes we love
How are you using your bounty of picked apples?  Share your favorite Slow Cooker Apple Recipe! 
MORE SWEET TREAT IDEAS FROM MOMTRENDS
PIN IT!
Use Pinterest to save your favorite recipes. Be sure to follow our Sweet Treats board here.
This is not a sponsored post.