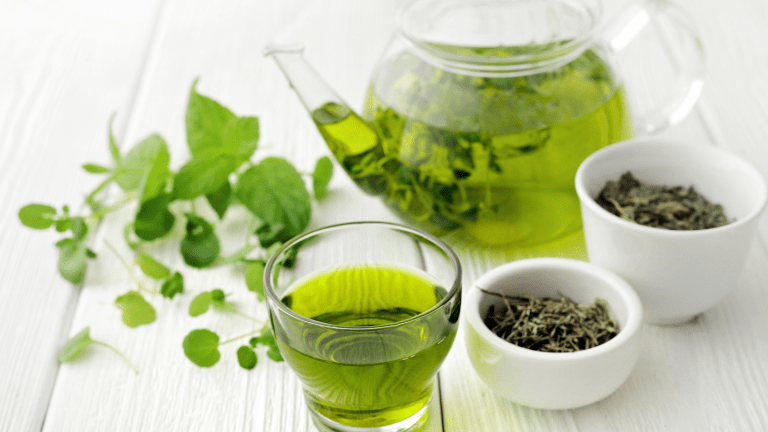 Six Reason we Love Healthy and Delicious Green Tea
Not only is the taste refreshing check out these green tea beauty and health tips.
As part of our special Food Month features, we're sharing some of our favorite finds. If you open my fridge, you're likely to find a selection of bottled green tea and I'm always stocked with tea bags to brew. But beyond sipping tea, there are more reason to love healthy and delicious green tea--it's also a great boost for your skin, body and home.
Related: Plan a green tea detox
Six Ways to Use Green Tea in Your Beauty Routine
Not only is the taste refreshing check out these green tea beauty and health tips:
It can reduce puffy peepers: Stayed out too late last night? Soaking a cotton pad in green tea and placing it over eyes for 10 minutes can reduce the puffiness of tired eyes, making you look revitalized and refreshed.
It can soothe skin: Spent a little too much time in the sun? Use the naturally calming properties of green tea to soothe sunburned skin. Place green tea in a spray bottle and mist on sunburned areas for all-natural relief. Because it has anti-bacterial qualities, green tea can also be used as an antiseptic to spray on skin blemishes or irritations.
It's great for teeth: Green tea has fluoride in it, making it a superstar for keeping gums and teeth healthy. Green tea can even be used as a mouthwash to maintain breath.
It can soothe sore throats: The anti-viral effects of green tea make it an excellent remedy to help prevent the effects of a cold or flu. In fact, you can gargle with green tea to soothe a sore throat.
It's good for the bones: Naturally high in minerals, green tea aids in strong bone density, which is important for maintaining good posture.
It's a room deodorizer: Green tea leaves have traditionally been used to naturally absorb odors in a room. Place tea leaves in a bowl to help absorb unpleasant odors or leave some in the fridge in place of baking soda.

MORE TEA LOVERS FEATURES FROM MOMTREDS
PIN IT!
Use Pinterest to save your favorite articles. Be sure to follow our Tea Lovers board here.