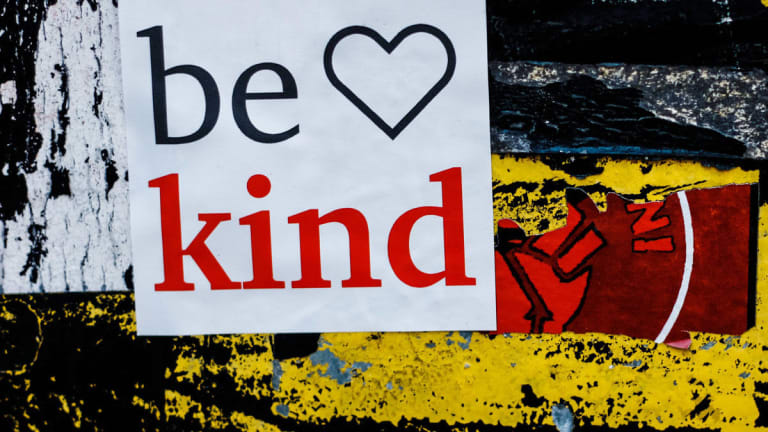 Simple Ways to Show Kindness Every Single Day
Kindness is not overrated. I can't tell you how many times a gentle word from a stranger has turned my day around. Just the other day, I was struggling with three cranky kids in the grocery store. A woman came up to me and offered some sweet encouragement and a nod of appreciation. "You're doin' great, Mama." That's all I needed. It made my afternoon. She could have walked away and avoided the chaos of our collective family meltdown, but she went out of her way to lift me up. Call it the "it takes a village" mentality of fellow moms; I call it plain old kindness. 
Nov. 13 is National Kindness Day. We should, of course, encourage and foster kindness every day; but this can serve as an important reminder to "pay it forward." Model the behavior and teach your little people why we need to spread kindness. Here's how you can show it and live it.
LISTEN WITHOUT DISTRACTIONS
Sometimes, the easiest way to be kind is to simply be present for someone who could use a little help. Maybe they need to talk it out, cry it out, hug it out, or yell it out. Whatever it is, listen (don't just hear).

DO A RANDOM GOOD DEED
So many people go through their day on autopilot that we overlook opportunities to inject a little humanity into another person's day. Keep an eye out for those struggling around you and give them a hand when they need it without expecting anything in return. It pays forward, trust us.

PAY FOR THE PERSON BEHIND YOU IN LINE
This one's a little specific but everyone likes a little kindness especially when they least expect it. Who knows, maybe the man in line behind you at the grocery was about to spend his last $5.

BE KIND TO YOURSELF TOO
Wait, hear us out. Self-care is an important part of kindness. It's much harder to be good to others if you refuse to be good to yourself. This doesn't mean be greedy but it does mean keeping your own emotional battery full to make you more able to help others.

ASSUME THE BEST IN PEOPLE
Too often we make judgments based on little or no information that can make others feel marginalized, belittled, or downright abused. If we assume the best in people it gives them the chance to show it. It's not foolproof (sometimes people just aren't excellent to one another) but its a start. 

Want more from Momtrends?
1. Change Your World by Being Kind
2. Teaching Our Kids About Kindness
This is not a sponsored post. Tips courtesy of National Today.