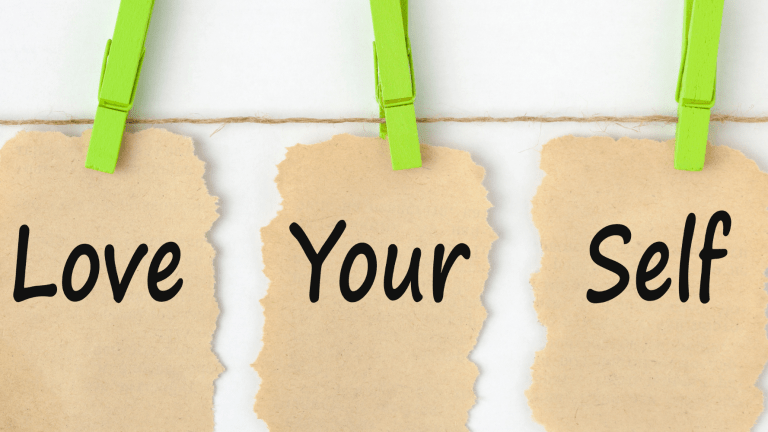 Simple Ways to Engage in Self-Care This Month
Be Your Own Valentine, and Show Yourself Love and Grace
Pardon me while I vent for a hot sec in this safe space, but it's been an exhausting couple of weeks. My seven year old had a virus that lingered for a week, then my five year old got, and, of course, my 10 month old followed suit. A full 10 days in and her poor little button nose is still a veritable faucet of mucus and gunk. To top it off, just as I was nursing the remnants of my own cold this past weekend, my seven year old projectile vomited all over the house and instantaneously spiked a fever of 104.8 degrees. SURPRISE, it's the flu this time 'round! Suffice to say, I've been trying to quarantine him and care for him and breastfeed the baby and give my middle child some attention so she doesn't feel like a total outcast. And get work done. And disinfect the house. And maybe get a wink of sleep. And cook meals. And get groceries. You know, in-between coughs and sneezes and medicine doses.
It's all good--it's all par for the course, and it's a multifaceted job I wouldn't outsource to anyone. I'm just that I'm a wee bit exhausted and could use a little TLC--some me-time to recharge.
Self-care is something we talk about a lot here at Momtrends. And it's not because we're self-indulgent luxury seekers; it's because we are hardworking mamas. And we need to take care of ourselves so that we can be at our best to take care of our babies. I truly believe that. And so with Valentine's Day approaching, I'm thinking about ways we can show ourselves--first and foremost--love and grace and appreciation.
Here are a few ways to treat yourself this month (or any time)
Hire a Babysitter and Go on a "Me" Date
I don't love paying for child care. I shell out enough for pre-school that the idea of giving a sitter even more money to watch my children while they're home doesn't sit well with me. And I have family locally--so I tend to rely on them for babysitting services. Except when I ask my mom or in-laws to watch the three kiddos so that my husband and I can go out to dinner or so that I can run errands solo, I end up feeling that predictable "mom guilt." But here's the thing, I've found that if I pay someone else to watch my children, I don't feel bad. I'm not inconveniencing anyone, I'm literally helping someone by employing them for a few hours. I don't do this regularly, because it adds up, course; but, when I really need some guilt-free me-time, I'll hire a sitter and get out of the house to do my own thing--whether that means a trip to Target or a solo glass of wine.
Get a Manicure or Blowout
I actually don't love getting manicures. But offer me a blowout, and I'm 100 percent on board. I love having someone else wash and dry and style my hair, and I really enjoy having it look good for days afterwards (mama's gotta milk those bouncy curls!). Having good hair days makes me a happier person--and that's an easy self-care win.
Start Reading a Book Club
My best girlfriends and I text and Marco Polo all ay long. We share our mom fails and brag about work accomplishments and whine about parenting problems without judgement. But sometimes the conversation needs a little something else. We recently create our own virtual book club. Since we live in different parts of the country we are unable to meet in real life to discuss whatever juicy book we've selected. Instead, we dish from the comforts of our own respective couches. Since having a third baby, I admit, I'v had a hard time fining the time or having the patience to finish a book, but my girls have kept me accountable.
Order in Sushi/ Pizza/ Italian/ Chinese/ Whatever!
Take a break from thinking about what you need to make everyone for dinner--because if it's anything like mealtime in my home, you're making separate meals for the kids and grownups. Pick up your phone and order a pizza for the fam and a delicious meal for yourself. It can be from different places, too. Throw on a movie and serve a pizza picnic. As long as everyone is fed, you've done a good job. Now, go eat that sushi meal in peace.
Buy Yourself New Pajamas
I'm a sucker for cozy PJs, blankets, robes, and slipper socks. Nothing tells my body and brain to chill like changing out of structured clothes and slipping into something soft and cuddly. I buy myself one new pair of high-end pajamas a year. They last a long time so this one-time splurge doesn't feel indulgent. Well, it does, but not to my wallet.
Take a Luxuriously Long Bath
Bubbles and bubbly, oils and perfumes, lotions and potions--make bath time wind-down time. Is it a cliché? Sure. Will it help you relax? Without a doubt.
Get in the Shower
I know, a shower should not be classified as self-care. Just like solo grocery shopping shouldn't be considered me-time, a shower is generally a required hygienic activity. But, if you're trying to squeeze in a little TLC during a baby's nap or while the kiddos are distracted by a TV show, hop in the shower and make it an experience. Eucalyptus can create a spa-like setting, as can new products, candles, and other "extras."
If you want a boost of energy from your shower sesh, trying lowering the water temperature. We recently shared a few benefits of taking a daily cold shower.
Hire Help!
I have a cleaning person come twice a month. It's not inexpensive, but I choose this indulgence over other tangible items. I straighten up in between her bi-weekly deep-cleaning sessions (I have kids, after all!), but let her handle the scrubbing, heavy dusting, vacuuming, and mopping. There is something incredibly relaxing about coming home to a spotless house. I'll admit the sparkle doesn't last long (again: kids!), but it is easier to maintain than trying to get it all done myself. Having a clean and organized house puts me in a better mental place; I feel more prepared to tackle the to-dos when everything is in order.
Want more from Momtrends?
1. Tips for Working on Summer Self Care
2. 3 Ways to Prioritize Self Care in 2020
This is not a sponsored post