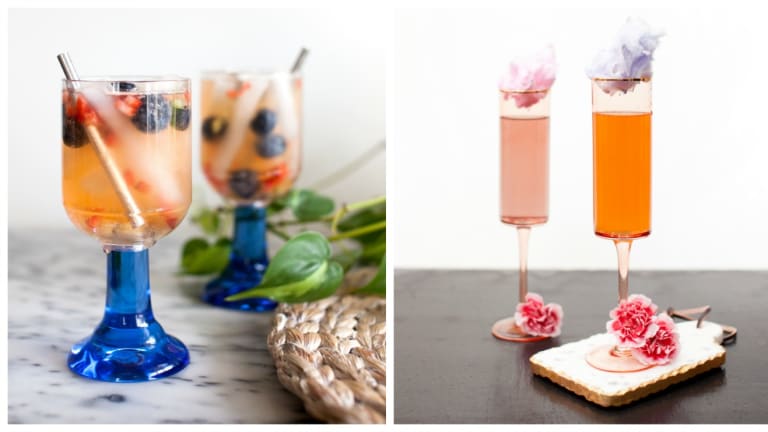 Publish date:
3 Simple Spring Cocktails to Toast the Season With
Raise your hand if you're ready for warmer weather?! If you're not one of our friends who live down south and are already experiencing balmy temps, you're probably counting down the days until real spring weather arrives! Well, never fear. We have some fresh spring cocktails that will help you channel that inner sunshine. Because, trust me, spring is on its way.
Thanks to these tasty spring cocktails that you're about to drool over, you'll be ready to toast the season with a delicious drink! Because one of my favorite ways to usher in a new season is to throw a shindig. And every shindig needs a signature cocktail...Am I right? Well, the three I'm sharing today are definite crowd pleasers! Get ready to be the hostess with the mostess!
Spring Cocktails to Serve a Crowd
Bee's Knees Cocktail
Ingredients:
Strawberry Lemonade Sparkling Ice
Touch of Raw Honey
Cut strawberries, blueberries, kiwi, lime
Dash of Orgeat Syrup
Directions:
Crush fruit with ice and add Lemonade, honey and Orgeat. Stir and add straw.
Lemon Cucumber Cocktail
Ingredients:
2 Cucumber Slices
2 oz Lemonade Sparkling Ice
1 oz Vodka
1 oz Brewed Green Tea, Chilled

5 Pretty Ways To Organize Your Jewelry
I admit - I'm guilt. Despite my best efforts, my "jewelry drawer" has become a tangled mess of necklaces, bracelets and earrings. This cluttered collection not only makes it hard to see what I have, but difficult to untangle the pieces I do want to wear! This summer, I'm ...read more
This Year's Coolest Jumbo Pool Floats
Pool season is almost here! I can't wait to relax, read a book, and sip a cocktail while lazily drifting in an oversized float. (Just kidding, I have two toddlers--but a swim mama can dream, right?). If you've got a staycation planned, check out this year's coolest jumbo pool ...read more
Crystal Clear and Pristine: Pool-Cleaning Tips
Tropical Storm Isaiah gave us quite the midsummer surprise here in the suburbs of New York City. We just got our power back on after a whole week of darkness! With trees down, debris everywhere, and lots of uncertainty, one thing we forgot to check on: our above ground Intex ...read more
½ oz Fresh Lemon Juice
Lemonade Sparkling Ice
Directions:
In a chilled highball glass, muddle the cucumber then add the vodka, green tea, and lemon juice. Fill the glass halfway with ice and float with Lemonade Sparkling Ice.
Cotton Candy Champagne Cocktail
Ingredients:
Sparkling Ice, assorted flavors
Champagne
Cotton Candy
Directions:
In a chilled coupe glass pour equal parts champagne and your favorite Sparkling Ice flavor. Top with a large piece of cotton candy and watch the magic happen!
Well, there you have it...3 simple spring cocktails to toast the season with. Who's ready to celebrate? You know this girl is! It was a loooooooong winter and I'm ready to say goodbye to it! Whipping up a batch of delicious cocktails is the perfect way to send off the last season and say hello to the new one. Cheers!
PIN IT!
*And for more spring cocktails inspiration, check out our watermelon slush cocktail! Now does that sound refreshing or what?
We were not paid for this post.