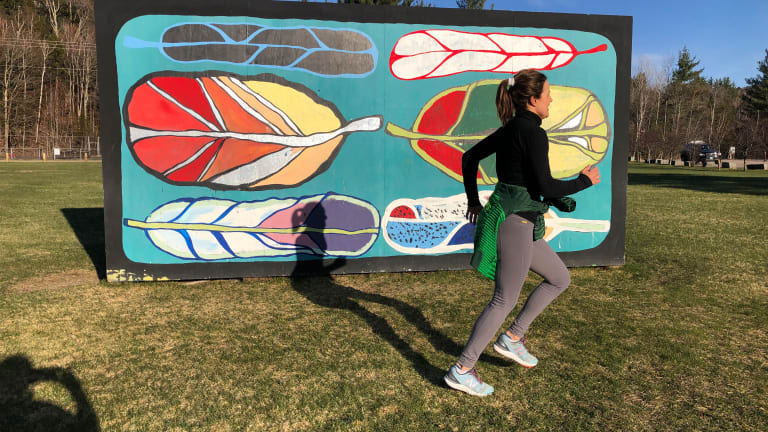 Sign Up for a Virtual 5k Run
Training for a 5k will keep you busy and it's also a way to give back and stay in shape.
We all need something to rally around, and we need to burn off all that banana bread we've been eating during social distancing. Training for a 5k will keep you busy and it's also a way to give back. Now is the time to sign up and start working on your mileage for a virtual run to keep you sane and possibly help forward a cause.
Related: Tips for getting girls into running
How to Run a Virtual Run
Sign up: online via registration links. Mark your calendar.
Train: See Below for training tips.
Show up: Check the start time. At the designated time in your respective time zone you start your time and run, walk, jog, run on your treadmill for 3.1 miles which is a 5k.
Log in your time on the registration site where you registered for your event and donate if you choose. 
Celebrate: and get ready to crush your next goal.
Upcoming Virtual Races
Kellogg's Special K x Black Girls RUN!
Everyone is invited to this race, from newcomers and seasoned marathoners alike, to lace up for the first-ever Special 5K, a virtual race that turns every 5K you complete into donations for people in need via Feeding America. The goal is to generate 2.5 million meals.
With the help of actress, producer, advocate and fitness enthusiast La La Anthony, the inaugural virtual race takes place now through June 30, 2021. With more than 42 million people projected to experience food insecurity this year, the time is ripe to help Americans do something good for themselves — and others.
Visit RunSignUp.com/Special5K to sign up for free, start tracking your Ks and turn your hard work into hardworking donations to Feeding America. 
Be sure to check out specialk.com/en_US/black-girls-run-5k and follow the hashtag #Special5K on social for more updates on how Special K and Black Girls RUN! are working together. 
Training For Your 5k
Are you ready to join the movement? There's no time like the present to get started. Here's our best advice to get to the finish line.
First, make sure you are in good enough shape physically.
Start slow, try a mix of running and walking. One mile is fine, since the race is only a few weeks away, don't overdo it. It's OK to walk!
Good shoes. Get a pair with decent cushioning. 
Track your progress with an app like Runkeeper or Strava.
Be sure to hydrate.
Keep it safe. Check out our safety running tips here.
Need more help? Check out the couch to 5k program.
Training Tip: Use the power of your mind to get you to the finish line and to your running goals! 💥
While running a race and challenges arise, try to visualize crossing the finish line. Did you know that our mind does not know the difference between fact and fiction? Trick your mind by visualizing what you can't yet see.
MORE RUNNING FROM MOMTRENDS
PIN IT!
Use Pinterest to save your favorite parenting articles. Be sure to follow our Running board here.