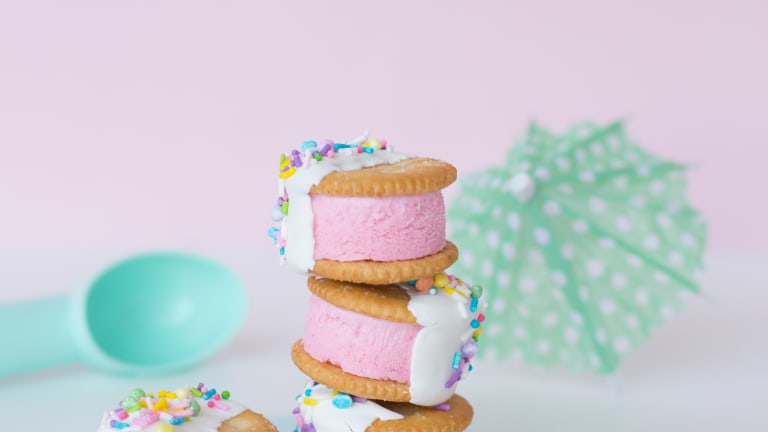 Salty-and-Sweet Ice-Cream Sandwiches
These super simple and pretty, pink strawberry ice cream sandwiches make a perfect salty-sweet treat for National Ice Cream Day
Happy weekend friends! This summer Sunday is going to extra special (and delicious!), because July 15 is National Ice Cream Day. Of course, I think every steamy hot summer day is ice cream day, but who am I to argue with the calendar?! It's true that we have been known to hit the ice-cream on the daily--after all, that hustling driver has the best game in town parking just outside our camp exit! (Ugh) So I'm pretty sure I'm going to have to step up my game to celebrate National Ice Cream Day with this delightful, playful, and yummy recipe from RITZ and notable foodie Sam Ushiro of @Aww.Sam. 
Related: Epic ice cream creations
Salty-and-Sweet Ice-Cream Sandwiches
Easy to make and picture perfect, these super simple and pretty-in-pink Strawberry Ice Cream RITZ-wiches make a perfect salty-sweet Sunday Funday snack.
Strawberry Ice Cream RITZ-wiches
Servings: Makes 12 servings
24 RITZ Crackers
12 oz. white melting chocolate
Sprinkles
Ice Cream
2 cups heavy whipping cream
1 14 oz. can of sweetened condensed milk
1 lb. of fresh or frozen strawberries
Ice Cream
Ice-Cream Sandwich Directions
Blend strawberries and set aside. 
In a large bowl, add in heavy whipping cream and sweetened condensed milk.
Whip the heavy cream mixture on high until thick. 
Gently fold in the strawberries until combined.
Pour the mixture into a freezer safe container and cover and freeze for about 4-5 hours.
To Assemble the Sandwich
Spoon one small scoop of ice cream onto RITZ Cracker. 
Top off the sandwich with your second RITZ cracker and place in the freezer for about an hour or until ice cream hardens.
Melt the white chocolate in a microwave safe bowl and set aside.
Remove ice cream sandwiches from the freezer and dip half of each sandwich into the melted white chocolate and cover with sprinkles.
Place the ice cream sandwiches back into the freezer until the white chocolate hardens and enjoy!
MORE SUMMER FUN FOR MOMS
PIN IT!
Use Pinterest to save your favorite fashion posts. Be sure to follow our Summer fun board here.
This is not a sponsored post.