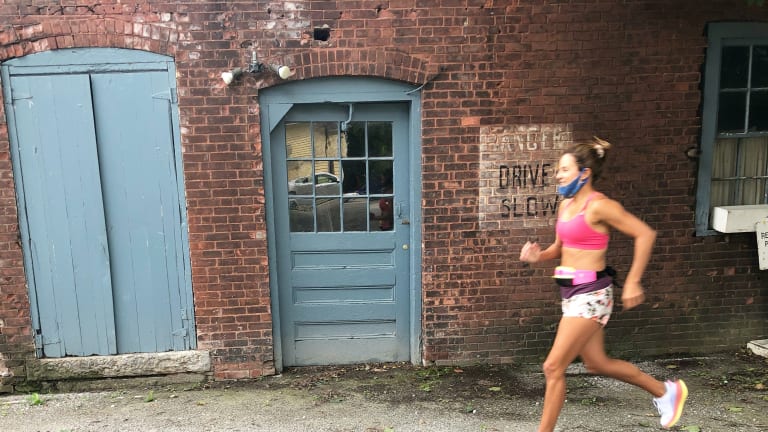 Road Testing Hoka Running Shoes for Women
Road testing Hoka Carbon X running shoes for women to see if they can go the distance.
When I'm road testing new running shoes, I try not to do a lot of research before I run in them. I want a fresh perspective. When I was road testing Hoka Carbon X running shoes for women, I was impressed by two things -- they were light and they were plush in the heel. Now it's time to go deeper than first impressions. 
Related: Sign up for a virtual 5k
Road Testing Hoka Carbon X Running Shoes for Women
The Carbon X was rolled out last year as an ultra light running show that could go for miles. They kicked off the shoe launch with a 100K race with all the runners outfitted in this shoe. It worked. One of the Hoka runners broke the record at this distance. 
The next step was bringing this ultra running shoe to non-elite runners. The shoe is now out to runners who aren't elites (that's me!) and it's performing for us too.
Why I Like the Carbon X
I felt the thoughtfulness of the design on my test runs. Out on the pavement, I felt bouncy thanks to the light weight of the shoe and my foot felt happy thanks to the cushioning. My heels sometimes get sore after longer runs (ten or more miles) and I think my feet will be well protected in my Hoka shoes.
As you pile on the miles, you'll feel good knowing this shoe is also plenty stable. A final touch is the Carbon Fiber plate that will help keep your stride smooth. It's perfect for runners like me who are training for half marathons, marathons and more.
No Risk Testing
Hoka offers runners an awesome amount of time to test the shoes. They let runners test the shoes on the road (New Balance doesn't do this). If you aren't satisfied, you may request a refund or product exchange within 30 days of the original purchase, no questions asked. Just visit hokaoneone.com/returns to get started. 
Where to Get Hoka
I'm wearing the Hoka Carbon X in the nimbus clound and lantana color combo. The shoe retails for $180 and is available at Hoka online. The Hoka website has the best color selection, but the shoes are available at other shoe stores.
MORE RUNNING FROM MOMTRENDS
PIN IT!
Use Pinterest to save your favorite parenting articles. Be sure to follow our Running board here.
Momtrends was not paid for this post. We did get a pair of shoes to test.