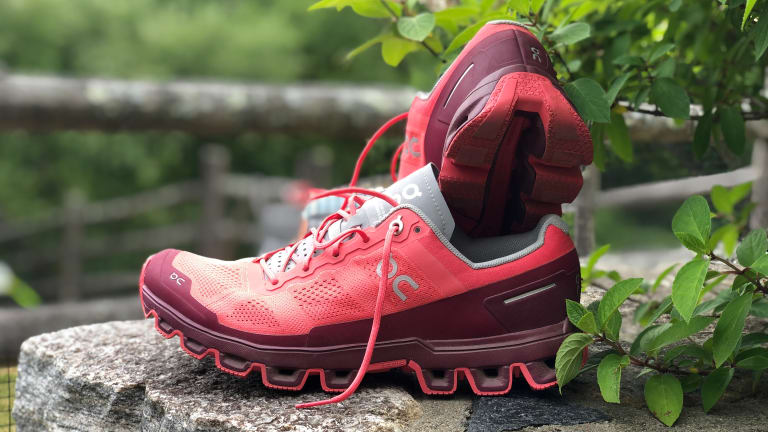 Road Test ON Trail Running Shoes
Our road test reveals ON Trail running shoes are designed to make uneven terrain a lot more fun.
Now that I'm living in Vermont, I'm spending more and more time trail running. I've been on the hunt for a trail running shoe that isn't clunky and that can offer nimble support. I've been delighted with my ON Cloudventure trail running shoes. 
Related: Best no blister running socks
A few months ago, I upgraded my summer running with an ON trail shoe called the Cloudventure. These shoes have become my go-to trail partners and are keeping my motivation high to explore the woods this summer.
How the Trail Shoe Works
Trail shoes offer a bigger more meaty tread. The idea is to put more between you and the rough terrain. They also have to stand up to the elements. Since I'm running on uneven surfaces in the woods that can often be slippery, I appreciate the grippy sole of the ON Cloudventure. They call the magic design it the Missiongrip. The rubber is enhanced by the traction pattern embedded in the sole. It all works to keep me stable as I take on stumps and rocks.
The big flaw: The tread is spaced in such a way that I often find large rocks embedded in my sneakers. 
Why You Need a Trail Shoe
Here's the thing, you'll probably be fine in your normal running shoes if you decide to do a trail run on a dry day. But once you add in weather elements, and if you start to do regular off-road running, you're going to want a shoe that offer more than a sneaker made for basic running.
I ordered three brands and 5 styles of trail running shoes to try (New Balance were too wide) and this pair ($150) were the keepers.
Trail shoes are designed to make running on uneven terrain a lot more fun. I think ON trail shoes are a great investment in happy workouts. 
Get the Cloudventure Trail Show from ON running on Zappos here.
More about ON
I saw these shoes all over Switzerland when I was there in January. It's a new running shoe brand designed to make running less brutal on your body and a lot more enjoyable. This is my first pair of ON shoes, and I think I will be back for more. 
MORE RUNNING FROM MOMTRENDS
PIN IT!
Use Pinterest to save your favorite parenting articles. Be sure to follow our Running board here.
Momtrends was not paid for this post.